Here we all are at the end of the main season – all the crops are at end of cycle, although there is some new lettuce starts to carry forward into the end of the extended season. The good things for the Extended season are really going to be good – in most prior years there has been a soft frost in late September that puts an end to tender plants; and there has been some really important rain – so – for example – green beans are just continuing on and on and on!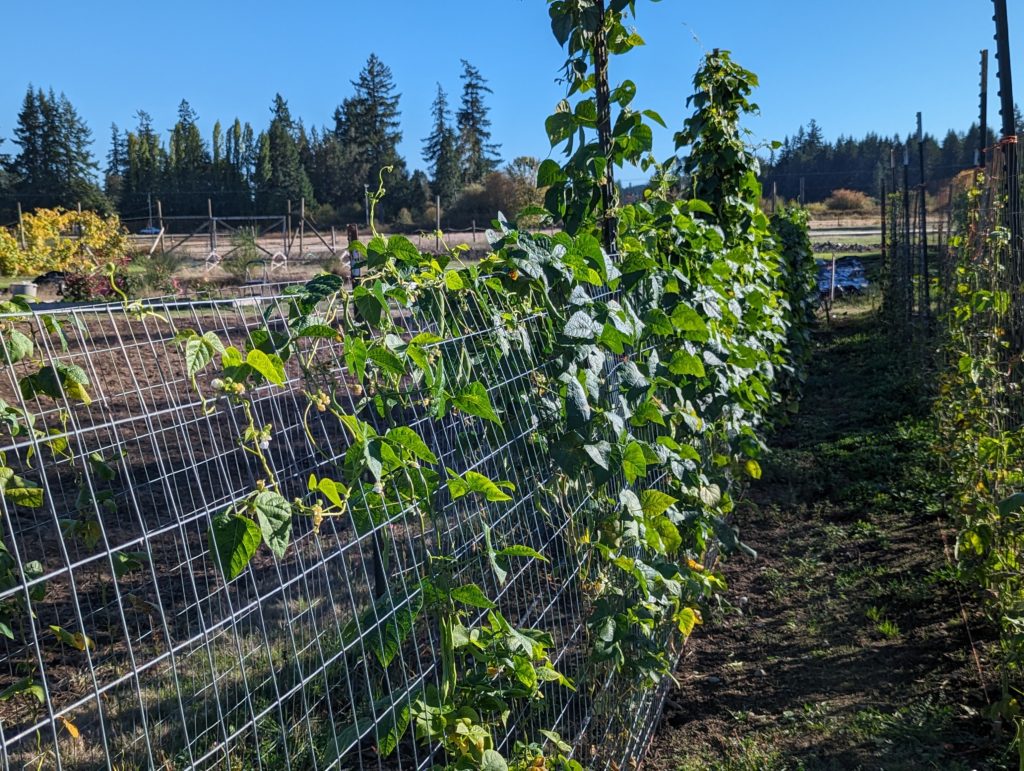 The root crops are also in great shape. It would be awesome if the beet tubers were larger, but the giant (hot) radishes make up for that. The carrots are also "awesome," of course. The sweet potatoes are a bitter defeat – a very small crop with very small tubers. It is a puzzle why. One theory is not enough sunshine because of where they were planted. Another theory is not enough water. In any regards, the token tiny sweet potatoes are curing in the propagation bench.
The cool and rain has allowed the planting of cover crops (winter rye and oats) in the fallow garden area. As the other rows empty out, additional cover crop will be sown to suppress weeds and prevent typical winter mud and mess. According to theory the cover crop gets turned under in April and then planted in May; a lot depends on what wild erratic weather happens in 2024.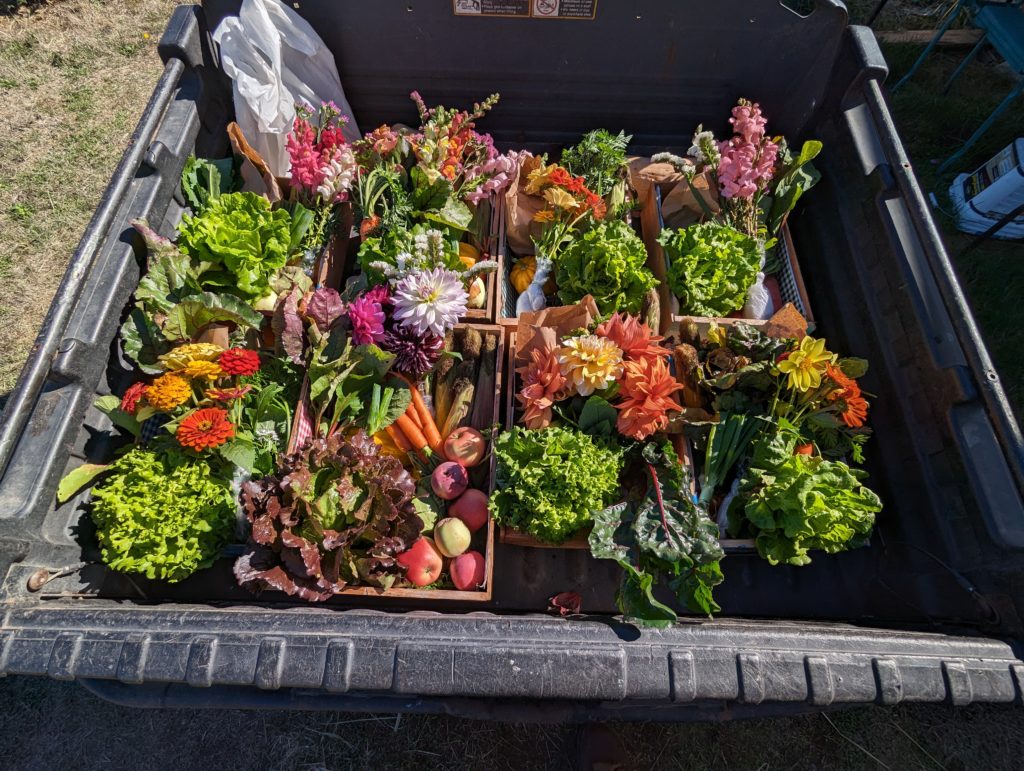 All this to say, the current full boxes look reasonably likely to continue on into the extended season. There have been three added members all using farm call, and there really isn't any intention to add more unless you are extremely persuasive. There definitely will not be any additional delivery for Extended season!
Dates:
Main season ends Oct. 20.

If you did NOT pay ahead for the whole year, it would be good to drop a note that says you are continuing or not – and maybe pay?

Extended Season ends Nov. 18
Decision about size and operations of CSA in 2024: January

Note that planting for "Winter Season" will happen in any case – in December.
General Comment:
There is some discussion about "how long is the CSA going to continue?" – There really isn't a good answer to that at this point. 2023 was a peculiar year – literally half the membership from 2022. There are numerous possible reasons for that, but it is what it is – or was. The nice thing about the smaller membership is that the workload fit the capacity. There is likely to be a full intern with us if we continue – Natalie has really embraced the idea of gardening to the point that she has started her own. As an Intern she gets a more formal 'education' in the CSA stuff, and that would be fun. So, conceptually there are options to continue and options to shut it down.
It has been in many ways a good year here. Lots of challenges, lots of things that were good and a few not so good. The garden nemesis that is eating on our slicer tomatoes comes to mind, for example. There should be an end of season update here the middle or end of November. Meanwhile, enjoy your Fall in the cool moist PNW!