First, sorry for missing the regularly scheduled update of Wednesday – distractions happen and when you lose your flow it all falls apart… So, here is a better-late-than-ever weekly update.
Squash. This is the Winter Squash official four week window. Obviously, Gill's Pippen went out last week, but this week you either get farmer's choice or speak up. A Red Kuri was tested this week, and is what is called creamy (not stringy) and very good – albeit it can be dry so cook it accordingly. The Kuri types are red and green, not enough for everyone to have one of each. The big one, of course, is the Candy Roaster. Farm Call folks have uniformly asked for Candy Roaster. Keep in mind that Candy Roaster squash is on the order of 15 pounds and about the size of, well, it's large. It is kinda important if you do NOT want a Candy Roaster that you speak up (well, email works).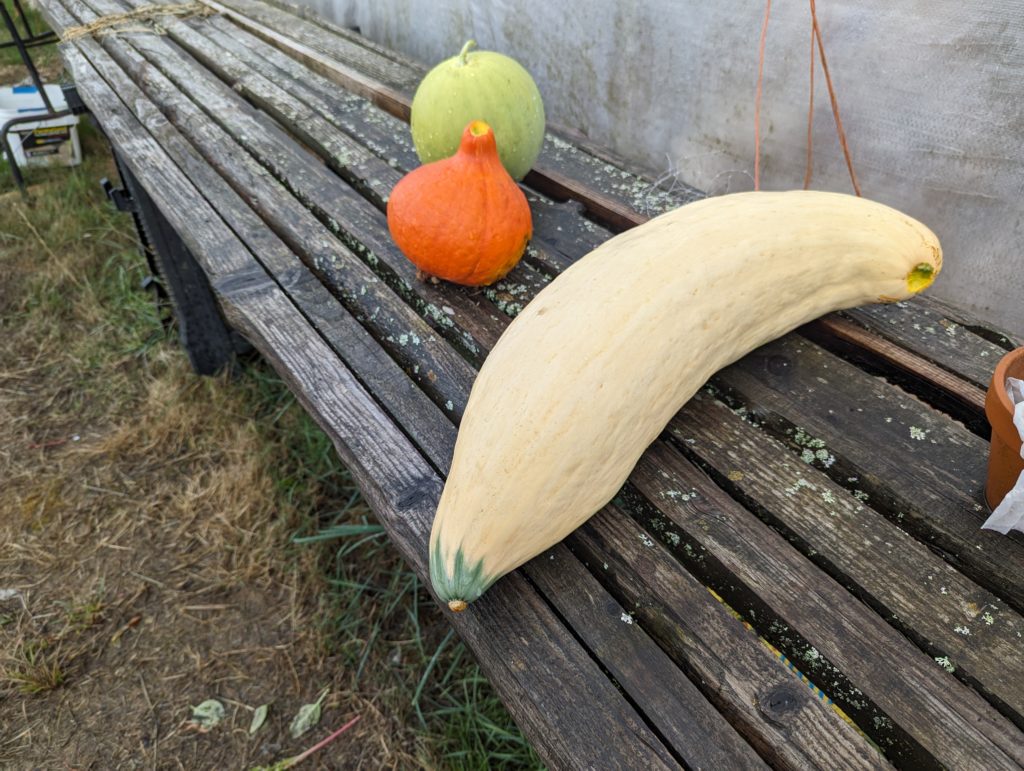 The Red Kuri is a bit in awe – the green melon is one of three Water Melons that are going to the full share members.
Green Beans continue to produce – the big reason for growing pole beans is the first and second level production. The second wave is not has large, but it is enough to keep putting out beans at least one or two more weeks.
This is a farm call picking minus the greens – Grapes are done for now, there are lots of apples so a few will be put in your boxes this week. A couple of members have come an picked apples, and yet there is more. Oddly enough there are a few of the late figs starting to get ripe this week – depending on the weather and how they progress there might be some to give out next week.
Meanwhile, the fallow bed was tilled up and will be seeded late this week with oats and winter rye for a cover crop. The cover crop experts are claiming that the winter rye can do fine when the garden pools up with water – there is some skepticism about that here, but it is worth trying.
If any of you are planning to NOT follow up with the extended season it would be good to let it be known – the last planting of lettuce for the year went into trays last week, and is starting to show. There are a couple of new varieties as well as the farm favorite Cegolaine in this batch.
Meanwhile…
| | |
| --- | --- |
| Lettuce | Muir or Nevada or red Iceberg – nice lettuce, really happy with cooler weather and rain! |
| Brassicas | Boxes have been and will be so full that the Bok Choi and Kale are just sitting patiently. Full share will likely get a cabbage or two, the Red Cabbage is starting to get some size. |
| Roots | Lots of choices – Carrots are in prime condition, Beets are doing well. There are a couple of stray Japanese Salad Turnips and the ubiquitous Dragon Radishes. If you do NOT want a Radish speak up! |
| Greens | Arugula, Chard, Mustard are all there – Arugula and Chard are tending to be put only in the boxes of those known to crave them. Mustard is left out from those who are known to not like it… |
| Herbs | Basil just keeps getting huge. Parsley, Chives, Oregano and Mint if you ask or are known to crave one or more of these. |
| Misc | Potatoes, Tomatoes (slicers and cherries, Roma if you ask). A nominal couple or so apples. bulb onion in your box – a few cucumbers so farmer's choice unless you are craving a cucumber. Winter Squash – Red Kuri, or Candy Roaster, or … Also there are some Summer Squash. |
Roses were drenched this week – at least 3″ of rain here. So, the flowers will likely be Zinnia's or whatever other flower does NOT look beat up. There was a tiny frost here, but no damage to the flowers. Be forewarned, frost happens early here at Shilofarm, and the soft flowers are d e a d when that happens.