Extended season week 1 – also known as "clean out what is left" season…
Fall has three 'events' only one of which is certain in its arrival: Dark happens more than light. The other two are fall rain/storms and first frost. So far, only the Fall of the First Part has happened. The major impact is that slicer tomatoes get really slow at turning ripe. That seems to happen very suddenly – in this case, last week. The good news is that the cherries are oblivious to this and are doing quite nicely.


On a more positive note, cool season crops heave a giant sigh of relief. The snap peas almost literally jumped into growth after staggering along in the strange and not desirable heat of September and early October. The plants are at the early stage of fruiting, which means there were about 15 pods available last week. This week is still looking thin, but hope springs eternal – there are blossoms as you might see.
Related to that, the next crop of Lettuces is small this week, but it developing nicely. There may even be a radish or two in the next week or so. Brassicas seemed kinda like a mentally impaired individual – they kinda make sense but just aren't 'right.' The plan for now is to push out to you the best of what is there, and hopefully it will taste fine for you.
On the losing side of Fall, some crops just fade to zero. Beans are doing that now, in fact they started to do so last week. There are still beans getting ripe, but the yield is now pretty low. The few members who dropped help your chances of actually getting some beans. Potatoes just squeaked out yield into the tail of main season, so don't look for them in your boxes. There are a lot of nice carrots, beets, Parsnips and some Turnips for root crop comfort food. Fall Kale is also perking up, but is pretty small this week.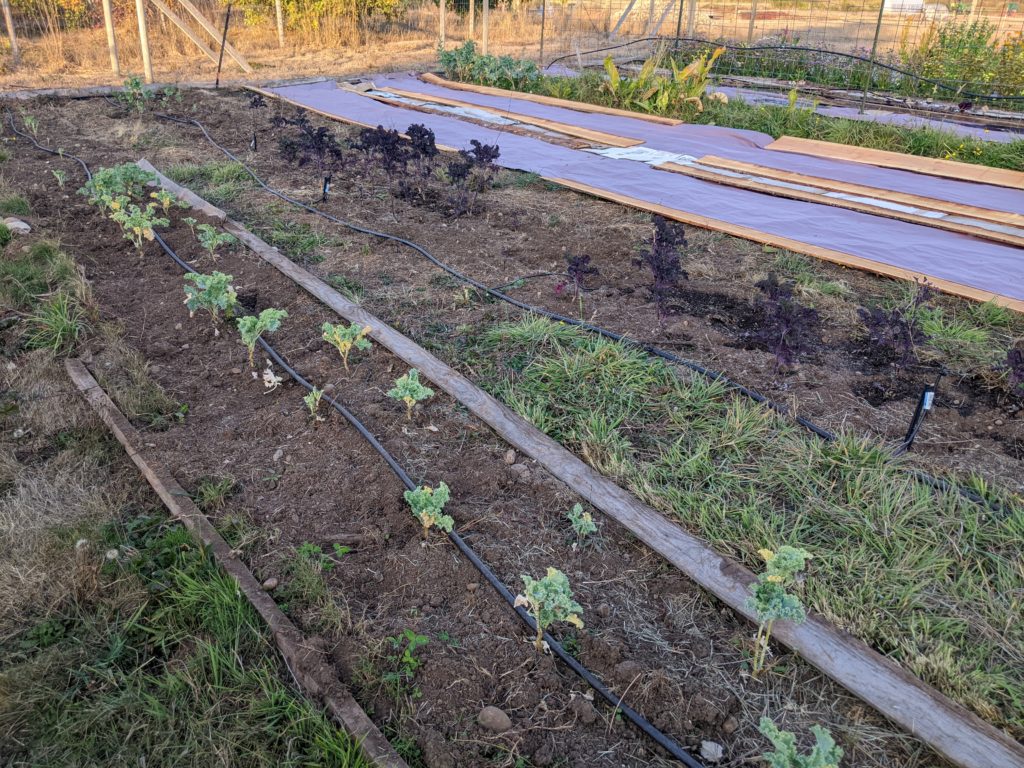 The greenhouse crops are really doing fine. Chard, Arugula, some herbs, nice Cherry tomatoes. Even the cutting flowers are managing to still bloom. There is supposed to be a week or so of rain starting towards this weekend, which might damage flower blooms; TBD.
The major work on the garden while the weather permits involves setting up for a cold wet Spring. If that doesn't happen, fine. If it does, the changes being made should help with some of the surprise nasty things of this year. Frankly, it was very difficult to get through with even medium quality produce, and the things that 'crop failed' were a major disappointment. Winter Squash comes to mind. That was extremely sad.
Here is what to expect in your box this week:
Lettuce
Romaine or Bibb young lettuce – very nice looking – much better than the survivor lettuce of the last two weeks…
Brassicas
One or more of: a Broccoli, Cauliflower or Cabbage. Red or Green Kale is possible.
Roots
Red beets and White beets with greens. Carrots, Parsnips and Turnips… Maybe a radish, TBD
Greens
Red Chard, Arugula for those who have wanted it in the past or ask.
Herbs
Chives, Parsley, Basil, Celery – short and potent.
Misc
green beans, a possible snap pea or six
Bigger bulb onion and a few green onions.
Flower of the week: Cut Flowers. Snapdragons and Statice and Zinnia; TBD
Cherry Tomatoes, possibly Roma or small red slicers, a few larger perhaps might be available. Don't expect a bunch of slicers.
Cukes – They are trying. Not too many, if you are really wanting a cuke ask, otherwise farmer's choice.
Bell peppers are now big and green, hot peppers are also big and green albeit getting paler. There are a couple turning color… put the pale ones in your window sill to finish.
Summer squash: Random choice of Hook neck, Zucchini, Patty Pan. Smaller this week, they don't like cool and dark.
Eggplant – Millionaire (tube shaped) or Rolandia (Round).
Maybe apples. The trees are very very sparsely fruited.
Beef is possibly probably maybe perhaps all sold. There is still a half of a young bull as this is written, but the secret agent beef salesperson is working the territory. Gave up on selling the older cow, but the young bull got out 3 times today and that wrote his ticket.