This week wraps up main season – good, bad and ugly. Those of you ending your year – be sure and set your box out next week as usual for pickup and a gift. Those of you continuing – four weeks of extended season awaits your veggie pleasure, thank you for your support!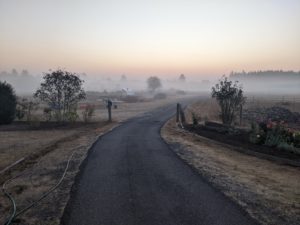 this picture is a nutshell of the weather and hence the ability to deliver produce. Cooling, more moisture in the air, but still no rain. The good news at least so far is that the heavy rains and/or first frost are hanging off for a bit. That means that Tomatoes and Peppers are still hard at it, doing their level best to ripen. One of you validated the "put your green bell pepper in your window sill to turn color" instructions last week. In previous years those peppers would get ripe before being shipped off to you.
Broccoli and Cauliflower and some truly homely cabbage are showing up – in fact, there were some put out the end of last week. Most of these brassicas have had a very difficult life and thus aren't picture perfect. The Cauliflower didn't wrap the forming head, which makes for a peculiar look to it. It is also going to be overripe Real Soon Now, so those of you that accept brassica can expect, well, some interesting looks.
It is a bit curious that some of the cauliflower has a purple under layer. Tastes okay, but really, purple?
The other thing that you might notice in your box (or not) is maybe a half pint of fingerling potatoes. The idea was these would be a tasty novelty. They are tasty; they are a novelty. What was in the fine print is they are pretty tiny. You have been patient with small potatoes all season; that said, these set a record for small. Interesting, but small.
Lastly – from the "things that are sorta working" there are new snap peas. The farm officially ate the two (2) from last week – they were delicious. There probably won't be more than about 2 this week. There was some debate about an auction, but farmers choice is what will happen. It is highly likely that the extended season will have them dribble out as well – snap peas shrug off frost and rain – they just get slower and slower and slower. But then so does everything on the farm.
And that's the story for this week – so here's what's in the box (probably):
Lettuce
Romaine (green) or Bibb-romaine cross; smaller heads. The new lettuce for extended season is trying to bulk up, but not ready.
Brassicas
One or more of: a Broccoli, Cauliflower or Cabbage. Speak up if you have a preference.
Red or green Kale.
Roots
Red beets and White beets with greens. Carrots, Parsnips and Turnips are targeting known Soup people or those who have ask
Greens
Red Chard, Arugula as farmers choice unless you have a history of loving it.
Herbs
Chives, Parsley, Basil, Celery – short and potent.
Misc
green beans, a possible snap pea.
half a pint of fingerling potatoes as long as they last
Bigger bulb onion and a few green onions.
Flower of the week: Cut Flowers. Snapdragons and Statice and Zinnia and ?? – they just keep coming. Sorta.
Tomato Cherries. Slicers gave everything last week, so they are a minimal pick this week.
Cukes – not enough for everyone. More coming, fruit is set and growing. The Cucumber vines are getting old and tired.
Bell peppers are now big and green, hot peppers are also big and green albeit getting paler.
Summer squash: Random choice of Hook neck, Zucchini, Patty Pan.
Eggplant – Millionaire (tube shaped) or Rolandia (Round).
Red apples, a couple or so. Smaller – watch for worms… 🙁
Coming Soon: Extended Season – 4 weeks long, new mail list.
If you have not paid for Extended season you should let us know your intentions… unless you already have…
Bit of a panic about selling the last half of the cow – and one of the "I want a half" people backed off to a quarter, maybe. Maybe???? Hep yur locul farmah!