Another week of the CSA comes upon you – the 12th Week. That sounds like it should be important, but in the CSA case it really isn't too big a deal. The side job of making hay took time this week – there are now about 750 bales of hay in the barn, and another two fields to cut/rake/bale. But be of good cheer – no hay will be in your box.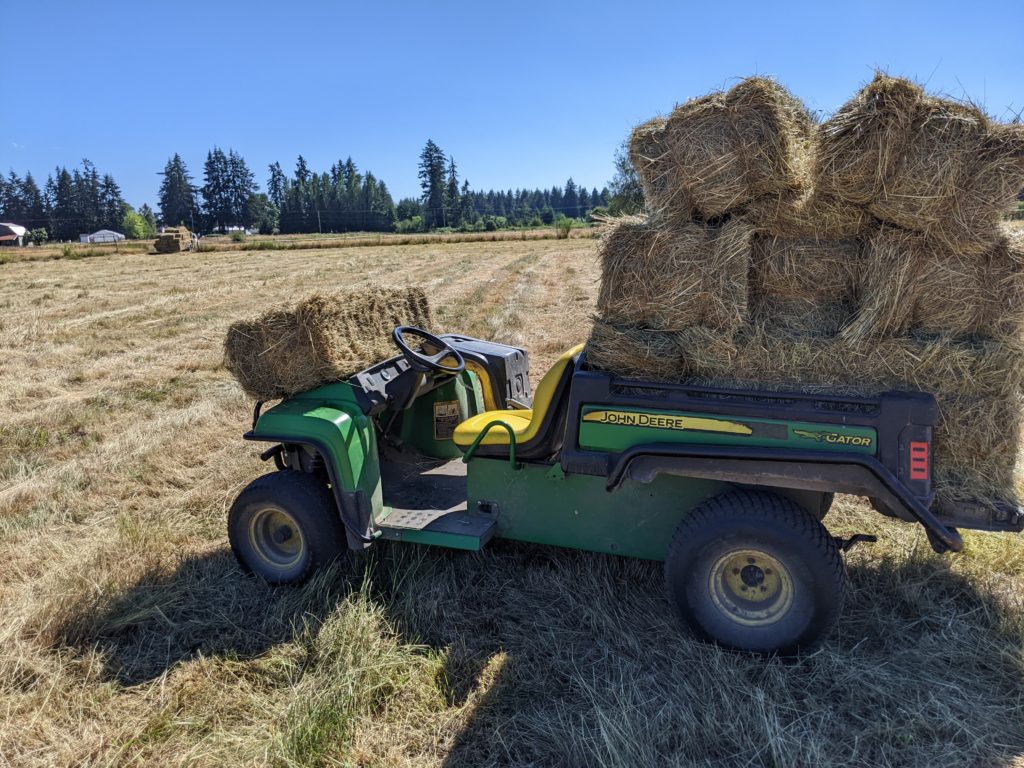 Notice that the big truck and trailer are way off in the left background – with the REAL load. Wally Gator was just cleaning up what was left.
Meanwhile, the warm weather is working it's magic on the garden – several crops are on the edge of being in your boxes – in fact, a lucky few of you might have had a "Millionaire" Eggplant (small and dark blue) last week. More are coming, albeit they aren't really large as yet. There is also a larger round Eggplant trying to put out fruit. Peppers are setting fruit as well, but their fruit is really really tiny at the moment – there is a race between the Peppers and the first frost; the weather people claim a warmer than average Fall, which is probably required for the peppers to get ripe.
The Corn and Beans and Summer Squash are all in the same race – although they appear likely to win. There was a single summer squash last week, and a whole lot of flowers. The Brassicas are all big enough that they should start setting some heads – in fact, some of the oldest Cabbage has done so. The cabbage heads are really pretty small, but they should be good.
Meanwhile, the greenhouse is the gift that keeps giving. The Tomatoes are in the full swing of things – the removal of diseased leaf (Septoria is suspected) was a good thing – now to keep an eye out for more outbreak. The fruit is awesome though – two bonus boxes last week – one of the Roma's for cooking, one of all the tomatoes that fit in the box. It isn't obvious that any one family could go through that many tomatoes, but hey, go for it. All that to say, nominally you get a pint of cherries and two-three slicers of random types. If you want a bonus box – speak up before your delivery date ($10).
Here's what is in the box:
Lettuce
Cegolaine is coming back soon., you will probably get a green mini romaine or Red Iceberg. Lots of plants set out and growing.
Brassicas
a couple of Bok Choi available, a couple of Cabbage. One or two of you are known lovers of these, will try and accommodate you.
Roots
White Turnips (1-2″) with greens, Red beets and White baby beets with greens (except for the member who only wants the greens…)
Greens
Curly Mustard, Chard – Red or White Chard, Arugula
Herbs
Mint, Oregano. Chives, (Cilantro – found two plants amongst the Celery, of all things!), Parsley, Basil, Celery leaves. Garlic – one
Misc
Potatoes – Assortment – Nokatah Russet, Huckleberry, Cal White. Your actual potatoes may vary.
Bigger bulb onion and a few green onions.
Flower of the week: Cut Flowers – base seems to be snap dragons.
And Tomatoes Cherries and Slicers. Tomatoes. Ask if you want Roma style Cooking tomatoes.
Cukes. Nice big cukes… Maybe a summer squash or eggplant to lucky random members.
Coming Soon: Summer Squash, starting with Patty pan and Zucchini. Eggplant (more). Early apples next week maybe. Possibly. Grapes are bigger than last week, but that ain't sayin much. Blackberries are full of verrrrry green fruit. Maybe a few next week. Or not. And Brassica – Broc, Caul and Cabbage.
Alert: IF you have previously expressed a desire to purchase a half beef PLEASE confirm that. The slaughter date is 11/5, and before the opportunity is opened up to non-CSA members you need to sign up. Note that this year will be more expensive. It is the intention of the farm to stop doing beef… This is probably you last chance.