Another week, another set of weird weather things behind us. The rain 'thing' ended up about 8″ over a three-day window – which was not fun here. The John Deere (Battery powered) Gator was just drowned and had to take a few days off in the barn to recuperate.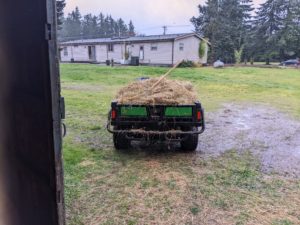 All the alignment of boards and hoses in the long beds are goofy – and the garden itself flooded. There was some thought about early tilling of beds, well, that ain't happening!
The good news, of course, is that while not desirable whatsoever this is not surprising. The temperature popped way up from the Tomato-killing 19F of last week, which made the cabbage, kale snap peas and garlic resume growing. They are very cold tolerant – seem to just hunker down and wait for it all to go away. And the end of the week is got sun patches and is warm-ish.
This is the last week of the first four week session – it is continuing with what you have been getting, mostly. Beet greens are just getting close – probably next week would be best. The first planting Radishes ran out last week, and the next set are not really ready to go out yet. Chard, Bok Choi and Asian Mustard are in the 'tweeny' state – almost big enough, but really not. A couple of you got small bok choi last week, it would be good to let it go one more week before extensive handout begins.
The other thing which a couple of you got were the tennis ball sized red cabbage. The cabbage is almost on a daily check basis – these mid-50's daytime temps with some sun breaks are really good for the outside cabbage, and honestly they have not been checked in the last couple of days.
Lettuce is really the strongest produce out there right now. So, as was mentioned above, the box will be a lot like last week this week! (By the way: The farmer, who warns you about washing your produce, just reached in and grabbed a nice Mustard leaf and crammed it into his mouth. There was a slug in there. Be warned. Slugs don't have much taste, but they numb your mouth for a few hours.)
And week 4:
Lettuce
Winter Density or Red Iceberg – your choice, it is all getting nearly past prime.
Cabbage
Some small reds, TBD of any Greens.
Roots
Radishes are not available this week. Turnips sorta have a root…
Greens
Medium Leaf Mustard (curly is pretty sweet, Southern is spicy)
Turnips (nice size leaf, good for soup or? Bulb is about the size of a quarter. Still.
Beet Greens – small leaf, thinning the rows.
Spinach – nice size, good flavor – might be a little sparse this week while it re-grows
Asian Mustard or Bok Choi – small plants
Herbs
Some Chives if you want, some Arugula – ask.
Coming soon… Chard, Kale, Beets – beet greens are close, for sure next week… And lots more lettuce of different varieties. Kale is actually about 6″ tall, but needs a couple of weeks. Session 2 of the season, for sure. Chard is 5-6″ and trying hard. Still this week.