Wow – the end is really near! The garden is in the middle of cleanup and cleanout, with really difficult weather to keep a work cadence going. Rain/Wind/Cool and all that entails. Some of our really pretty Cauliflower is starting to show damage, which demotes it from box duty. Lettuce is just barely hanging in there. It is always interesting to see which varieties handle which type of weather, and lettuce is a true case of that. There are a few lettuces that can survive heat, and a a few that thrive in cool (40-55F). The interesting thing is that there are a couple of varieties like Speckles that seem to handle cool and heavy rain. All that to say, it looks like the season end and the lettuce end match up.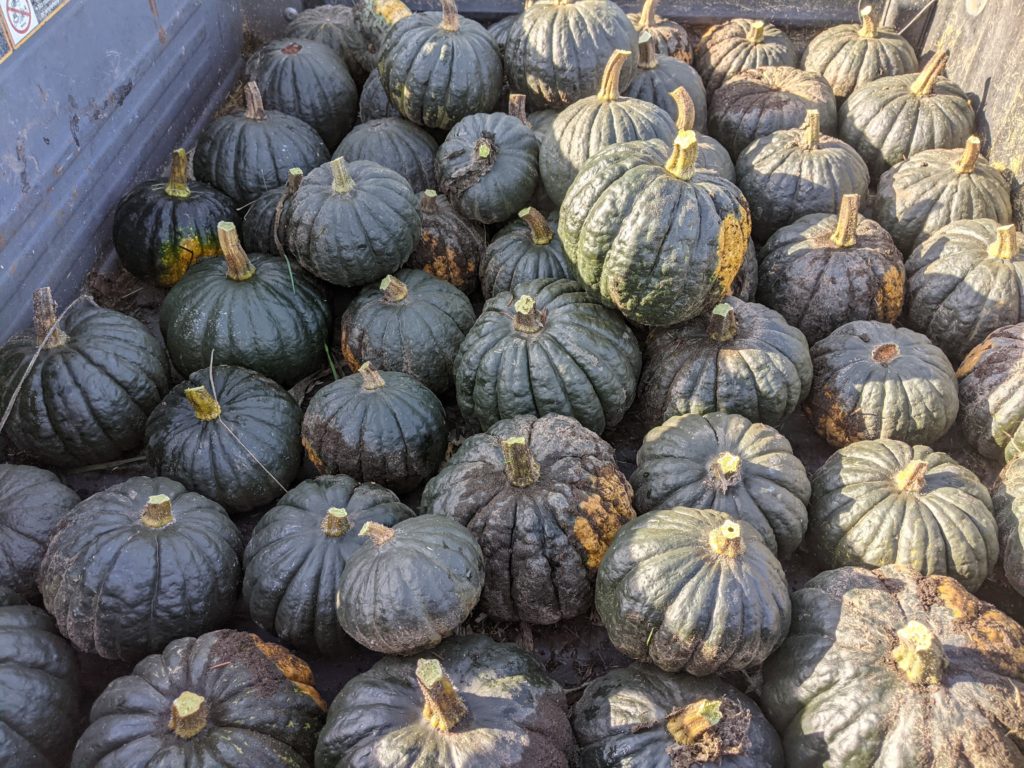 All the winter squash were loaded up in the gator and brought out of the garden to be sheltered. The curing process doesn't work too well in the cold and rain and periodic frost. The only type of winter squash left for the season is the Kobucha (also called Cha Cha) at green pumpkin shape. The goal in delivering them to you is to try and get squash that has dried somewhat. Remember if you aren't going to cook it at once to leave it in a 50-60F dry dark place like a garage, or a covered porch. It is best if you do not let them freeze.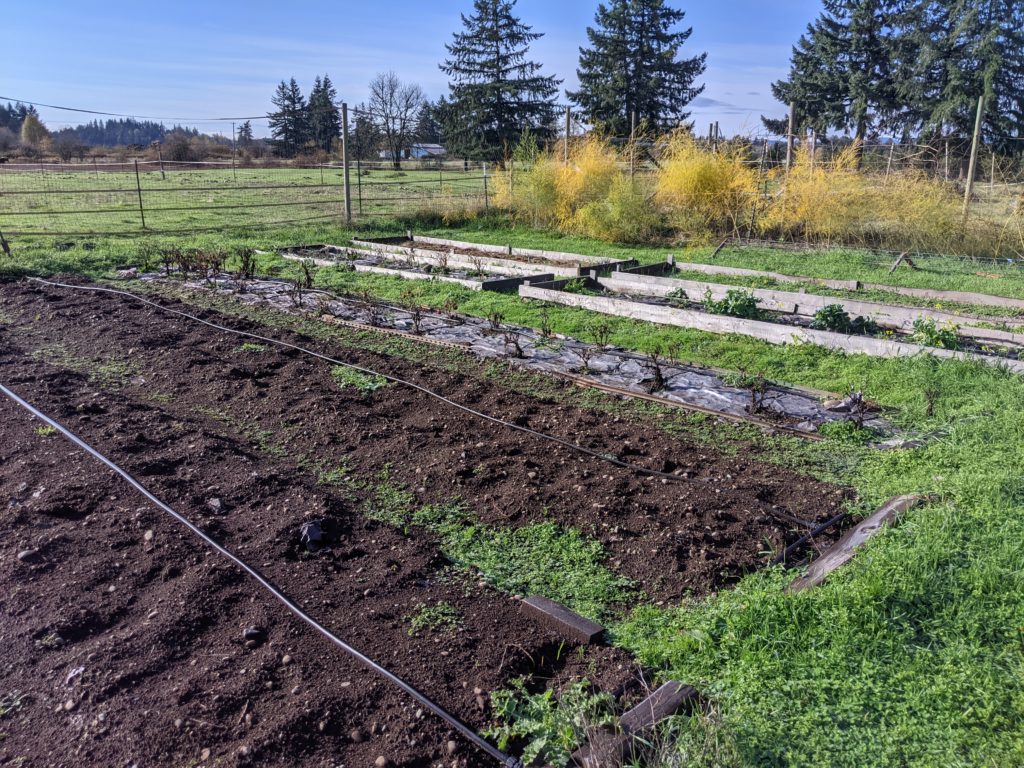 The last few hills of Sweet Potatoes were dug this week and put in the 'propagation bench' with the heat set up to about 75. This week will be more small diameter sweet potatoes. Once again, here at the farm they small sweet potatoes end up in soup. Since the carrots are all multi-color at this time it is a guess what you are picking out of the soup – carrot or sweet potato – but once it is in your mouth all doubt is gone.
The apple trees are (almost) cleaned out now. The cows and horses are very pleased that those bird-bite apples happen, and will be deeply saddened to not get anymore. All it takes to provoke serious begging is to see someone with a bucket in the orchard. If the apples are not removed, the bird population continues to grow and the aggressive destruction gets out of hand. There is a fine line between letting the fruit tree-ripen and getting it down before the birds mess it up. The Sap-sucker is an especially destructive perpetrator.
The cleanup time is also a 'what should be done differently' time. There are a few glaring issues – for example the potatoes that did NOT handle the heat, the Tomatoes that were tried to grow outside the greenhouse, and space for the wildly rambunctious winter squash. There were also some very pleasant surprises: This is the best pepper crop ever, paper mulch and board hard edges are amazing labor saving devices, and Basil loves to be in the greenhouse. In fact, Basil, Arugula and Swiss Chard demand to be in the greenhouse. The next few months are all about trying to squeeze in some of these changes while getting seeds started and beds cleaned out. That clean out includes the rascally rabbit making a huge warren in the tomato raised beds inside the greenhouse. It is hard to tear the bed apart while the tomatoes are still growing!
The rain has brought ducks to the farm – and the Eagles are glad. They have been waiting all season for the return of ducks…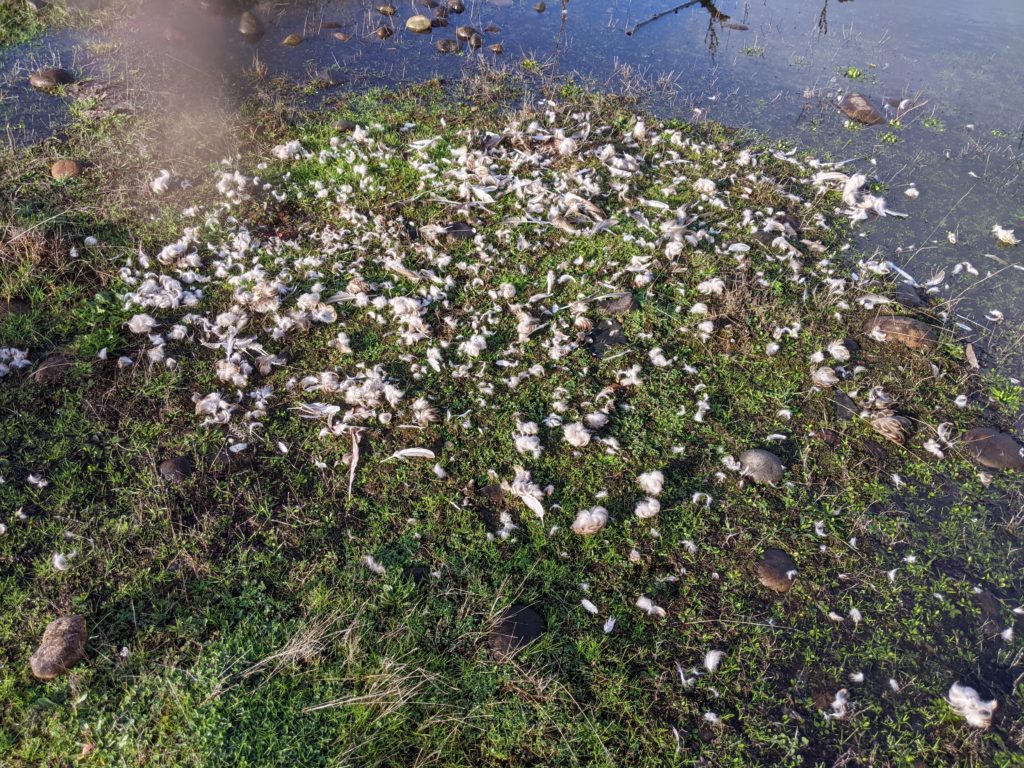 And, the reminder promised you for each of these last weeks: Last deliver in next week. Please set your box out as though there will be a normal delivery for the following week; there is a gift coming and the boxes need to come back for refurbishing.
And in-the-box week 5 Extended Season:
Greens
Surviving Lettuce. Some Spinach. White and/or Red Chard; Kale – not much of it, ask. Asian Mustard (ask) – Broccoli or Cauliflower (both of which are starting to show some abuse from weather). A couple of very small heads of green cabbage may show up in a lucky member or so boxes.
Crunchies
Carrots. Yep, Carrots. (note: made some grated carrot salad – farmer Deb hates it; farmer Doug ate it)
Herbs
Garlic, Parsley, Arugula, Green Onions (not in good shape – too wet), Chives (ask), Fennel! yep, ask if you want a fennel – or be surprised.
Other
Cherry Tomatoes, maybe. Slicer tomatoes, maybe.

4-6 apples… almost gone.

Green skin winter squash.

smaller (thin) sweet potatoes.