Hi Members –
Well, technically this is the end of the main season; the 6 week extended season starts next week, with a new 'in the box' mail list as people come and go. For those of you leaving, you get a box as usual this week, and next week at your delivery time a gift will be dropped off and your box reclaimed. It has been a pleasure getting produce to you…
Obviously, farmers talk a lot about the weather. It really goes dark and cool and wet fast in the fall, and this fall is being quite aggressive in so doing. Lots of rainy days, not much sun. Because the PNW has cool nights, most crops that do well here are good with cool, but not so good with low light. Auxiliary lighting in the greenhouse is a poor substitute for the sun, especially if the plants are in fruit. That said, there is enough in the greenhouse to keep Tomatoes limping along till the end of October. The outside crops are now depending on warm soil temperature carryover from the summer. Last week there were three Cucumbers and zero summer squash. The beans had enough for the full share members, but not enough for everyone.
So. Given the gloom and doom, what IS happening? Broccoli is coming in this week; Cauliflower is considering setting heads, winter squash is heading out, and sweet potatoes are nearly ready. Sweet potato picking will happen this week, and then they are put in the propagation benches with the heat on to keep them near 80F to cure. Uncured sweet potatoes are not a pleasant taste experience. Lettuce, Spinach, Carrots, a few remaining beets, Tomatoes, Chard, Kale, and lots and lots of good apples. The boxes will be heavy this week; Squash and apples will do that.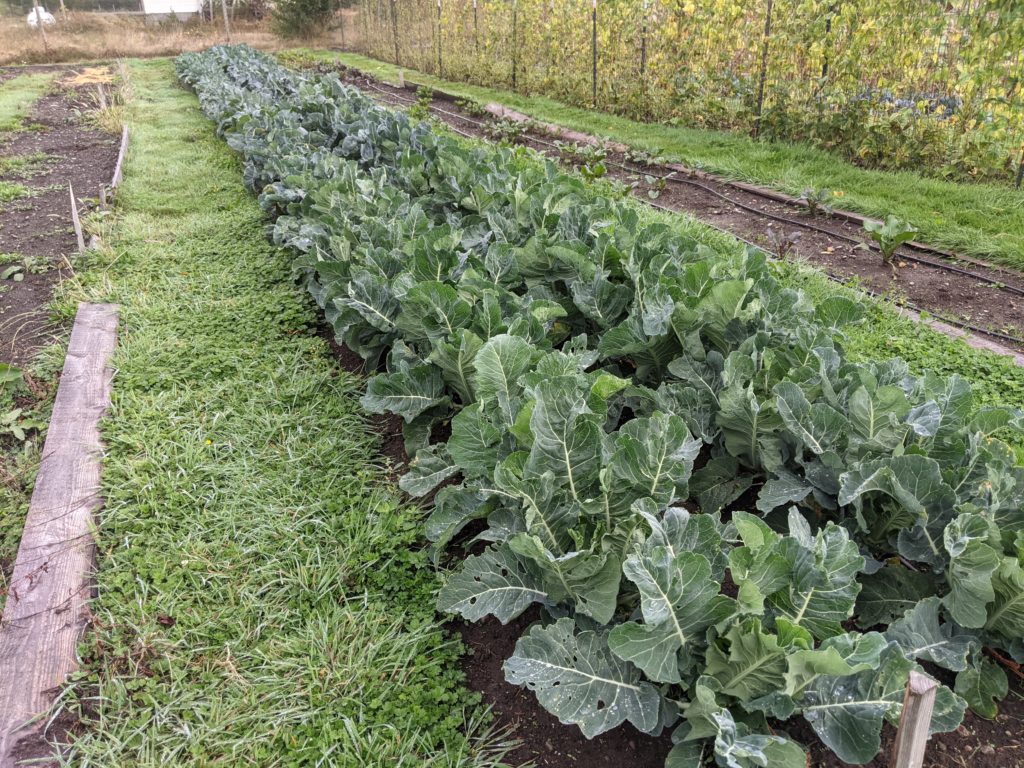 Note that there are two new varieties of apples. A third which is pretty prone to scale/scab makes great cooking apples, and the yellow crab apple and Quince are asking for someone to show them some love as well. The "Quince Paste" posted on the FB group site looked really interesting. Quince and Crab are by request only.
There were enough Sweet Potato vines to give to one member last week. The freak frost in September did them in badly. So, no more vines are offered.
There are copious notes and thoughts about what to do differently next year. Potatoes were essentially a disaster; there already is a start on trying to add a lot of sawdust mulch to the beds for next year. It is also quite clear that drier soil structure (no ponding over the winter) is important to deal with the scale/scab attack. The plan for next year includes locating the more sensitive potatoes into the sandy bed near the flowers. Every year has a new set of challenges…
So: week 20
Greens
Nice Lettuces. Some Spinach. White and/or Red Chard; Kale – not much of it, ask. Asian Mustard (ask) – 1-2 florets of Broccoli, depending on availability.
Crunchies
Carrots (Sugarsnax54), Chocolate mini-bell peppers. Big Bells… possibly a few cucumbers if you ask for one…
Herbs
Garlic, Arugula, Green Onions, Chives if you ask, Basil, Cilantro (nice leaf structure), Hot pepper
Other
Yellow or Red Beefsteak, Slicer and Cherry Tomatoes, 1-3″ beets with greens, Flowers will be arrangements of cut flowers; although it is projected to be pouring rain on the flower farmer tomorrow.

4-6 apples

Yellow Crabs? Gallon or more?; Quince?

Pumpkin or Green skin winter squash. Mostly ChaCha this week – they look like a deep green pumpkin.

There are still corn stalks for décor, as well as décor squash. That said, the cows are gazing with patient desire at the corn stalks.
Next Week:
Similar to this week, unless Cauliflower gets it going.
On Deck:
Cauliflower (plants are 14-16″ with wrappers, no heads seen yet.
Cabbage – 2-4 weeks out. Still. Happier in the cool weather.
Sweet Potatoes – 10-14 days to cure.
Doug
Shilofarm CSA
3404 113th Ave SW
Olympia, WA. 98512
360-951-2754
www.shilofarm.com