Hi Members –
Week 19… a rain week. For Wednesday, a sun break was used to harvest flowers, and what remains of the beans. It really is getting serious about Not Being Summer!
The outside tomato plants are virtually destroyed. There are a very large number of green tomatoes that are passable, but the ripe tomatoes have exploded from a water over-dose. There is an excellent recipe for green tomato relish if you are interested. Fortunately, the greenhouse is doing the "Save the Tomatoes from bad weather" mission extremely well, so the usual clutch of nice slicers and cherries seems to be going along famously.
It is a trifle strange how the peppers just do not care about the rainy weather and the Tomatoes blow up. There are some very nice chocolate mini-bells again this week, and some big bells that are showing nice color. The hot peppers are also doing great. The poor sad outdoor Eggplant. Well, a short life and a merry one. The few Eggplant in the greenhouse are still in party mode. Unfortunately, they are a trifle slow putting on any size. Down below where you see 'the list' there will be a comment which is "ask." If you do not ask you won't get eggplant. If you do ask, you might get eggplant. Asking early is advised.
The corn plants look miserable. The poor things are no longer green. Farm Staff did a test meal on an ear of corn Tuesday and pronounced it good. The corn variety selected is a standby for the farm – it has the virtue of being sweet compounded with a long stalk life without getting, err, chewy or doughy. The plan for now is to stuff what is left into boxes proportionately.
Because this is nearly the end, there will be small winter squash put in most boxes. As you will note in the table, you can get a small pie pumpkin or a "ChaCha" green squash. There are three or four different winter squash. The nice thing about winter squash is you can stuff it on a shelf in your garage or pantry until you get the notion of backed squash or pie.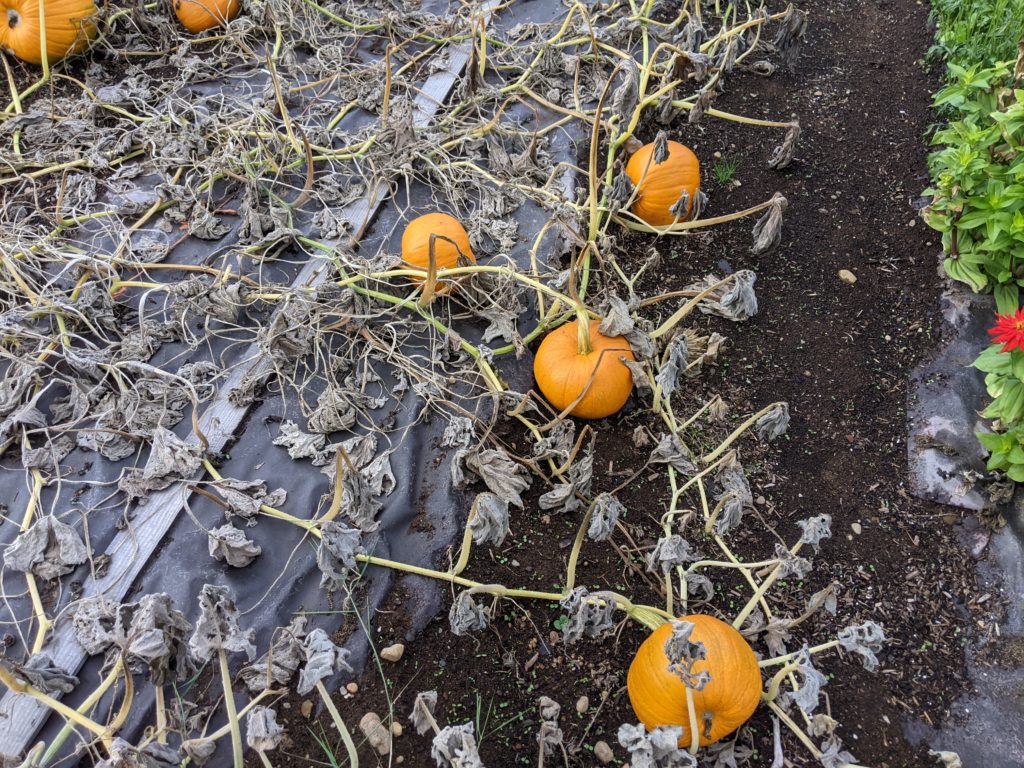 And, to the amazement of all, the broccoli decided to go ahead and form florets. They are still too small to give out, but look for them in a box near you soon. The cauliflower is being shy, and hiding itself without showing. Cabbage is just now starting to form heads for the Extended season, and the lettuce is going great.
The tiny little red apples hiding in the corners of your boxes are heading to the cows. A member brought her husband and a troop of four grandchildren out to the farm on last Saturday. They were assigned the (fun, it looked like fun) task of picking up windfall apples and giving same to the cows. This provoked a near riot amongst the cows, only restrained by the fear of the electric fence. And yes, if you are 5 1/2 and a boy you can throw an apple a long ways past the cows and watch them play hunt-the-apple. In the event you have small people, or people who act young and want to feed the bovines, well. Come on down! By the way – apples this week are from a different tree, have some size, and really want to be in a pie or a crisp or eaten fresh if you like somewhat tart. They are really pretty on the tree:
Well, the next time there is a chance, Sweet Potatoes will be pulled up and set to curing… 10 days usually required.
this week – week 19:
Greens
New Lettuce. Some Spinach. White and/or Red Chard; Kale – not much of it, ask. Asian Mustard (ask)
Crunchies
Carrots (Sugarsnax54), Chocolate mini-bell peppers. Big Bells… (Alas, poor Cucumber, I knew you well…)
Herbs
Garlic, Arugula, Green Onions, Chives if you ask, Basil, Cilantro (nice leaf structure), Hot pepper, zero to 3 or 4?
Other
Yellow or Red Beefsteak, Slicer and Cherry Tomatoes, 1-3″ beets with greens, Flower of the week cut flower arrangement or roses. Optional Eggplant (ask) – Lovely purple (well, see picture) Apples.

Yellow Crabs? Gallon or more?; Quince? (one hardy member took Quince… Hopefully she survived.)

Pumpkin or Green skin winter squash. There are a few water melon left, may not be very tasty.

Green beans – some. Corn. Any décor squash? Corn Stalks available farm-call only.
Next Week:
Broccoli, probably.
Some Sweet Potato vines (ask)
On Deck:
Cauliflower (plants are 6-8″ – creating creche for new heads. Hope springs eternal.
Cabbage – 2-4 weeks out. Still. Happier in the cool weather.
Sweet Potatoes – 10-14 days to cure.
Doug