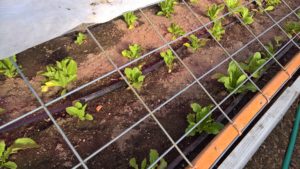 Hi Winter Members!
This is an early heads up and test of the website posting of 'what's in the box this week.' Obviously, we are two weeks from actually starting. That said, it is important to see if the website posting works for this purpose.
Here is the part you may actually be interested in –
Greens: Spinach, Kale, Curly Mustard, Lettuce
Crunchies: Carrots, Radishes, Parsnips
Herbs: Garlic (from last year's crop)
Onions: green with small bulbs – might be soft from cold weather.
Beets and larger radishes (Dragon) may or may not be ready in week 1; we will see. The Pac Choi and Cabbage are growing well, and should be ready in the second half of winter season.
Here we go!
test