(For some reason there is a compulsion to drag out high school french for the last week of the year)
Here we all are – scraping out the last of the veggies for the delivery this week! Meanwhile the rather large job of putting the garden to bed is ongoing, and the preparations for winter season 2024 kick off.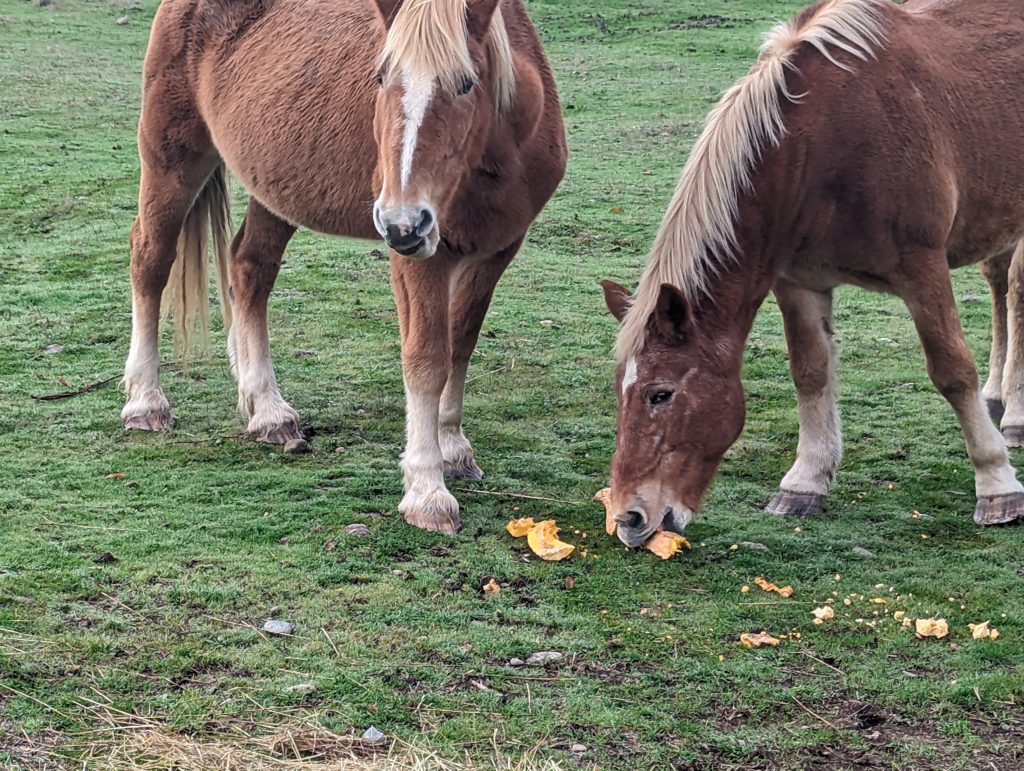 The draft horses have graciously volunteered to clean up the squashes that are showing some rot – as well as the left over decor gourds. Evidently they consider this a high treat, and will traipse all the way from the field up to near the garden as soon as they see the squash come flying in. This is a bit of a caution to you: If you did NOT put your large squash into a nice dry 55-65F storage like a garage, you might be looking at rapid squash decomposition. And those big squash are not going to make your trash carrier happy with you. So – keep an eye on them, or better yet start to cooking and eating.
The potatoes kinda ran out last week, not quite making it to the very end. A fruitless half hour was spend on Tuesday trying to find anything in any bed to give out to the mid week farm call members. It was, as mentioned, not wholly successful. The other crops that are not looking very good right now are the few remaining lettuces and the beets. The beets lost most of the taller leaf to the cold outbreak, and the reasonably sized bulb plants are pretty much gone. So, if you get beets they will be small and scraggly looking – not an object of pride from the garden. Now carrots, on the other hand – well, those are trophy class.
There are some new starts underway for the winter season starting in February. The goal is to have more breadth to the selections as it comes on, so a trial planting of carrots and onions with some lettuces went into the greenhouse; more will be forthcoming. The peculiar thing about winter gardening is the slowness of crop development. Plants that need some warmth are being planted with a heating cable in their bed; e.g. the carrots and the onions, possibly some turnips. The other beds will be lit and there will be covers over them.
But more will be written in the December monthly update. At this time, there are a couple of housekeeping issues to address. First, since this is the very last week it will not be delivered in the farm boxes. If you have an extra box hiding in your garage, or you just have the one please make a extra effort to set it out. Pretty please. Almost everyone has gotten their thank-you gift – those were made because, well, you all are important to us and we appreciate you – those of you who periodically tell us how much you appreciate the taste, well, that is extremely encouraging. It has been well established that fresh picked in-season produce is so superior to shipped food, well, it is hard to understand why people buy grocery food right up to the point were the season ends and there isn't any alternative!
Once again: keep an eye on those big squash! if they start to show any sign of rot, cook them at once (cut out the rot spot) and freeze them! Unless of course you have a draft horse.
What' in the box this, the last week:
Lettuce
Barely enough Muir and Nevada, two itty bitty red icebergs will stay here.
Brassicas
Some cabbage, the Kale is nice. Not everyone will get cabbage, and those who do will wonder where the golf ball size cabbage came from. 🙁
Roots
Carrots, Radishes, maybe a tiny salad turnip or two, tiny beets with good tasting greens.
Greens
A little Arugula for those known to love it, some chard, some mustard all of which is small and heading to the horses after this week.
Herbs
Cilantro… just a few leaves. Note that next year there needs to be about four times as many cilantro, it grows very well in the Fall.
Misc
Squash – couple of Gills and a Candy Roaster – did not give out the candy roasters generally last week. 4-6 Apples.
And, as a sorta disappointing treat, there are a very few very small sweet potatoes. Look closely or you will miss them.
Have a wonderful Thanksgiving, a very happy Christmas and we will hope to see you all on the other side!