This is the last of the first half, right? And the warm season crops are showing up, finally! Last week you all got samples of new potatoes – the idea was to give you a full pint of just one variety. The Red Norland, however, is deciding to turn yellow, which means that most of you (the ones that did NOT get Red Norland last week) will definitely get them this week – those of you with Red Norland last week will probably get a baby Russet. Maybe.
You all got summer squash last week as well – let's be clear: Summer Squash is great roasted with new potatoes. But not everyone likes summer squash the rest of the year. So. You won't hurt feelings here if you ask for no summer squash. The big goal here is to ensure that the summer squash are small and tender each week – which means the horses got a couple that failed to be small and tender. The horses are more than okay with summer squash.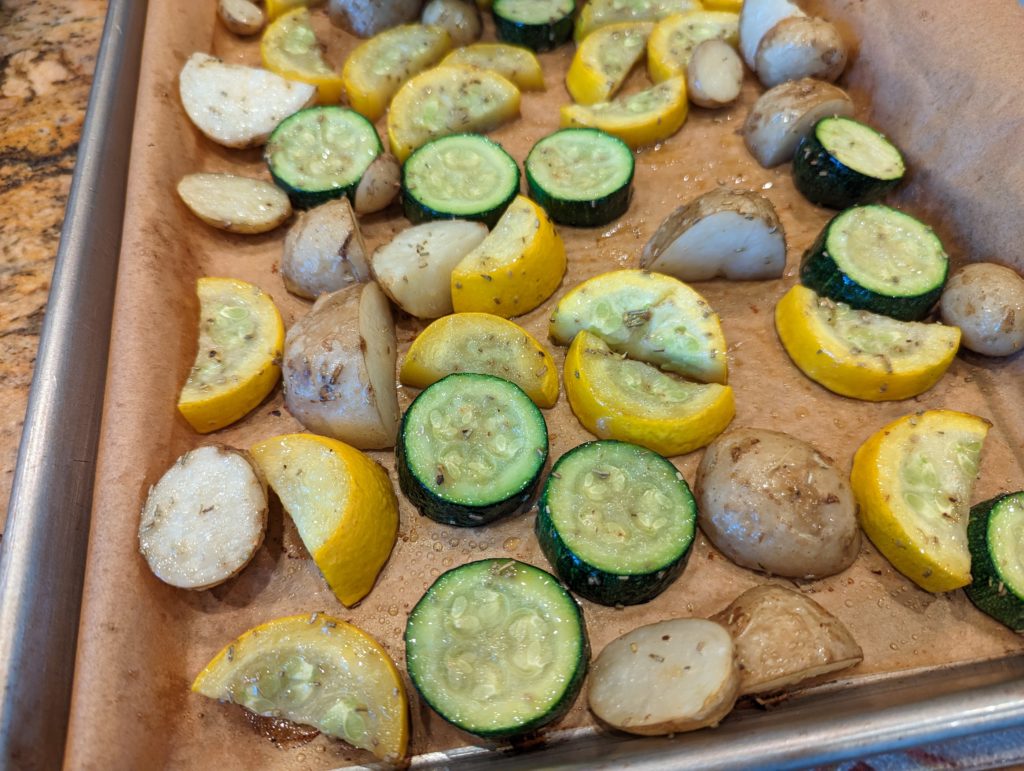 Of course the farm crew is having summer squash and baby potatoes almost every night just to keep them from the horses.
The problem here this week is that the heat causes the Lettuce to go to seed really quickly. New lettuces are planted, but it means that there won't be a lot of lettuce for at least two weeks. The small green cabbage is stepping in to the gap, and there is a bit of Bok Choi and new mustard greens coming on. The mustard greens are growing fast, it is likely that a few leaves make it into the box.
The other greens that are showing up well are the beets and turnips, especially the turnips. There are three types of Radishes coming as well – at least one member in the past has mentioned eating the radish greens, so… The carrots are about 4-5″ long (pulled one to check) but they are very very slim – carrots are at least 3 weeks out for small carrots. There also is some kale, not a lot – and the continuous Chard and Arugula. To make that go down well the cherry tomatoes are looking like there will be at least a few for everyone this week – next week it will not be a few for everyone, but quite a bit – at least a half pint.
There are two other very significant things to mention: Green Beans and FIgs. The Green Beans in the most precocious row are about 4″ on a few plants. They won't be ready this week, but towards the end of next week there should be a small picking, and then an explosion of beans will happen. Figs, on the other hand, have already exploded into ripeness. At least 5 two pint tills went to farm call members this week, and there are a LOT more.
In general, a personal share will get four and a full share eight this week. If you want more speak up – there will be a general notice Friday for bonus boxes of FIgs as well as an early apple. Some peaches are still coming (a later variety), and there are lots of really delicious blackberries for U-pick.
(and yes I know you saw those pictures last week…)
Lots of good things coming!
| | |
| --- | --- |
| Lettuce | The Gap has come. Some scrappy heads will go to folks, but there is a gap waiting for the summer varieties to mature. |
| Brassicas | Small head green cabbage (the holes are from hornets looking for treats), some brassica, some Bok Choi. |
| Roots | Three different radish types, Japanese Salad Turnip, baby beet greens possibly. Maybe some real beets that are small. |
| Greens | Arugula, Chard… unless you are not a chard fan, which has been noted. |
| Herbs | Lots of Basil, Chives, maybe some Oregano. |
| Misc | Cherry Tomatoes, Baby Red Potatoes (or maybe a Russet baby). Figs, Summer Squash (yellow) |
Flower of the week is a mystery to me – all varieties are in full bloom, and doing great. So, you will like them if you like flowers…
By the way, this is the stage where panic ensues regarding selling the last half of beef. Just sayin… Find a friend and split a half!