First – if you didn't see the posting on the "Boyce's Shilofarm CSA" facebook page – there is a ton of happy going on here because La Nina has up and gone. The main beds, the upper beds, the overnight temperatures – all is great for the garden. For most years there has been enough cold in February and early March to hold off budding on the fruit trees (check), enough rain to keep the soil moist but not soaked, and that is what is happening now. That means that melons, corn, beans, squash – all those great crops that failed in 2022 are very reasonable to produce. Honestly, it isn't clear how much longer the farm can run, but if crops can't be produced that would put a nail in the coffin, which would be emotionally really hard.
The fun thing is that this is the week for the "four week before last frost" plant starts setting out and seeding in the ground. A 20×4 bed of lettuce and most of a 16×4 bed of Kale are in today, Broccoli and Cauliflower and Cilantro will go out tomorrow – Potatoes will get started to be planted on St. Paddy's day.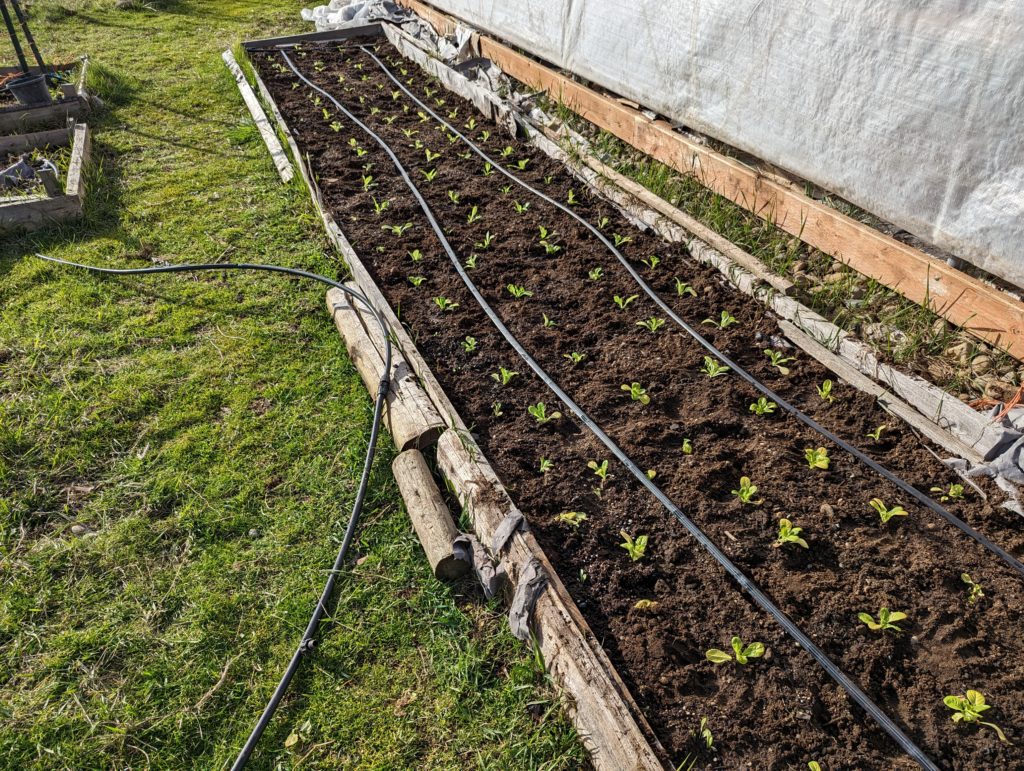 Meanwhile in the greenhouse the Wasabi mustard put on another inch or two, as did the Chard and Spinach. It is probably worth while to let the Spinach go another week – until it is nice and big. The Red Iceberg is absolutely stellar, of course and the silly radishes are doing great too!
The schedule shows a ton of seed starts right now. The 8 week before frost is migrating out of the propagation benches to the window shelf, and the new seeds for both flowers and the four week tray starts are next.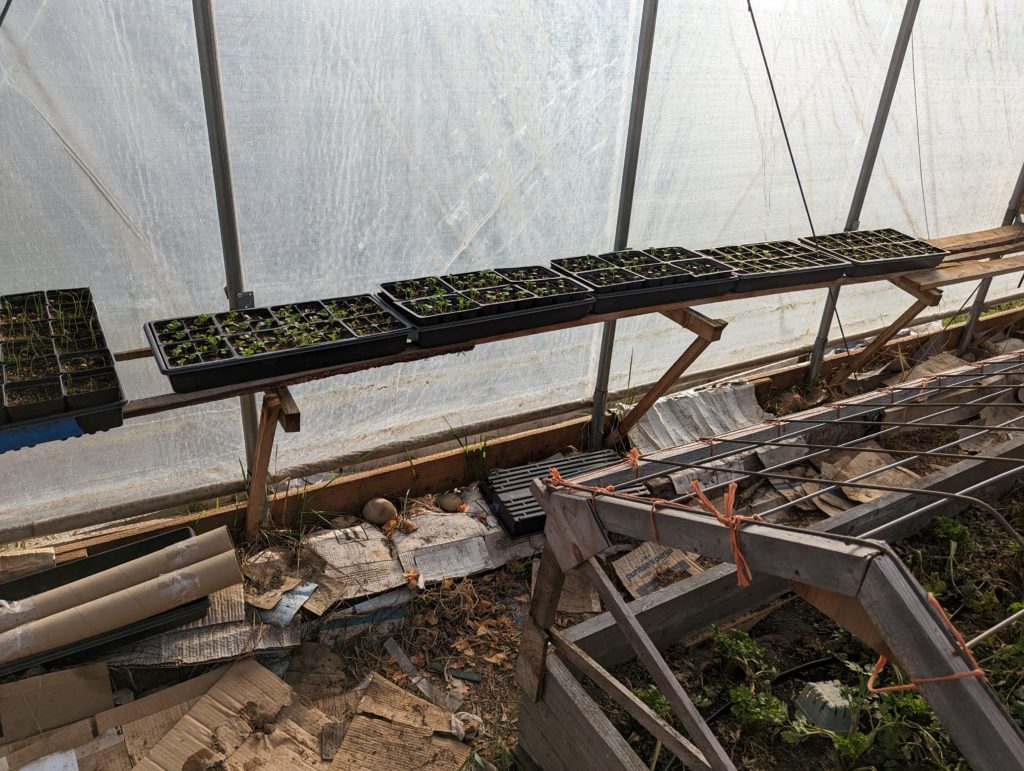 Additionally, very early beets and possibly carrots will be seeded out – and the early potatoes. There is some question about the arrival of the Maine Potato Lady (Yep. That is the business name) order, but the earliest potatoes and their bed are ready to go.
So – this week…
| | |
| --- | --- |
| Lettuce | Winter Density are coming along, and it is up to you if you would prefer it. The Red Iceberg is amazing, Cegolaine is still about a week out from recovered. Spinach big enough to give a few leaves, or you can choose to wait for a full salad worth. |
| Brassicas | Bok Choi. Kale is two, maybe three weeks out – it was set outside… Cabbage is barely making heads – 3-4 weeks? |
| Roots | Salad (Japanese small white) Turnips, three different types of radishes, over wintered Parsnip and Carrots may make it this week, may run out. It was fun while it lasted, now 8-10 weeks till the outside crop gets some size. |
| Greens | A far amount of Arugula, Wasabi mustard is 4-5″ which is enough to give a leaf or two, or wait for bigger. One lonely volunteer curly mustard is valiantly showing up. |
| Herbs | Chives are great; celery has now fallen prey to Aphids. Sheesh. Found some on a baby cabbage as well. |
| Misc | Chard is set out and about 4″ tall. Cilantro is going out, Basil is not doing well for some mysterious reason. |
Very excited about the great weather for early gardening – not so excited about the paucity of Green Season members. If you have some poor innocent friend that complains to you about the cost and quality of store bought – point them at the CSA!