Hoping you are having a good holiday season! The CSA is both done for 2022 and has not yet really started for 2023. The reality is that the farm overall has to make changes, and that exercise has been, and continues to be, well, stressful. Here is where it is for now:
2023 will have a CSA as normal. It is pretty important that the CSA has a few more members to meet expenses.
Selling off the cows – that is a really traumatic change. The farm has been raising cow/calf beef since 2003. Spring is always a calf watch, and fall is always a graduation time. In between they are literally a part of every day. So, when Brett and Bart graduate in 2023 there are no more cows here.
Selling 'Farmcraft.' The farm has resources that can be made into 'craft' items and sold. Winter is a primary time for doing that. The offerings in 2023 will include 12 sided 'barrel stave' pots with or without Geraniums, some tray planters and machine embroidery that is 'suitable for hanging.' There will be more info as this matures.
Hay. The hay crop previously went into beef. The nice thing about hay is that it doesn't get out, doesn't get sick and need a vet, and it has a pretty continuous stream of buyers as compared to one-shot big ticket sales.
Meanwhile, back to the CSA – the start of December (now) is when first seedlings are started for the Winter and Green season. There is a new set of plant start shelves with lighting being put up in the craft sun room (shelves hold four trays, two more on the floor). Most of the early greens are 8 week plants, so if we want to put out produce in February the seeds need to be started ASAP.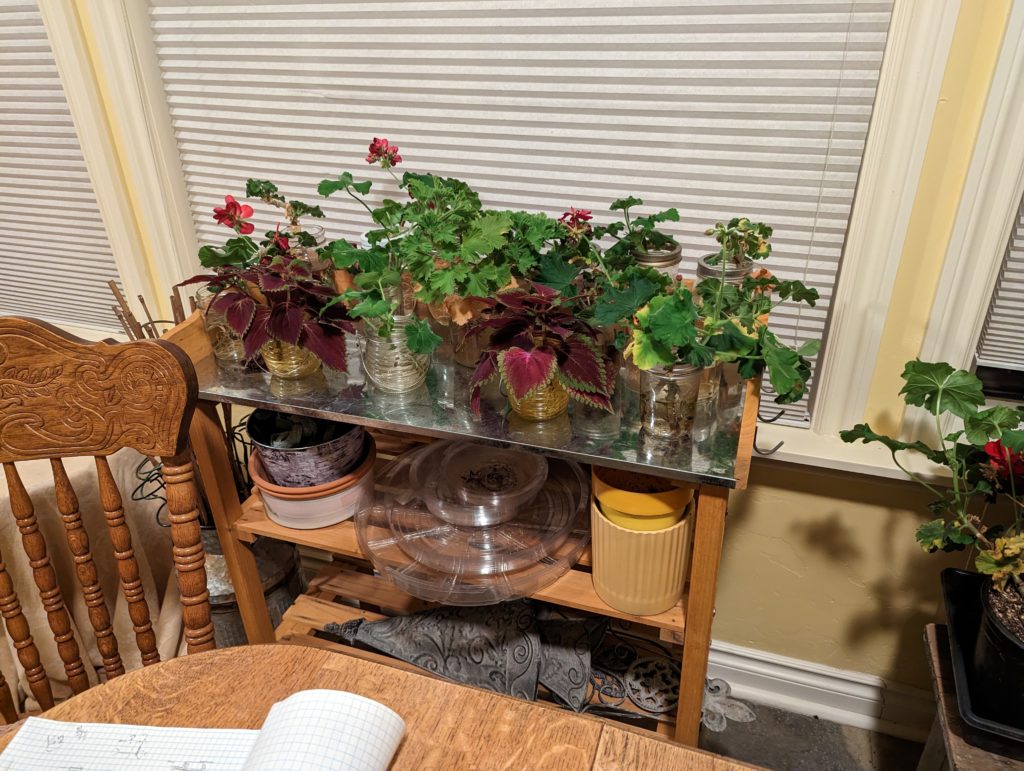 There are carry over Parsnips and Carrots, and maybe a few heads of Cabbage will survive. That said, the greenhouse preparation gets real after the seeds are started. The flowers will eventually all be started in the craft sun room, and the greenhouse will contain the veggies.
Optimistically, the climate prediction center says December through February will be colder and wetter than normal, and then the La Nina subsides. Finally. If that happens, the train wreck for the garden in Spring of 2022 will not be repeated. That would be amazing and wonderful – and planting in April and May can happen the way it used to.
There are two things that would help the CSA a great deal – first is an early indication of your plans to participate. That is nice. More importantly, if you have folks that like to prep and cook fresh produce tell our story.
Have a wonderful Christmas!