Another Tuesday, another update from the CSA. Technically there is only one left after this for the year, so tough it out, you can make it!
Behold the Cabbage: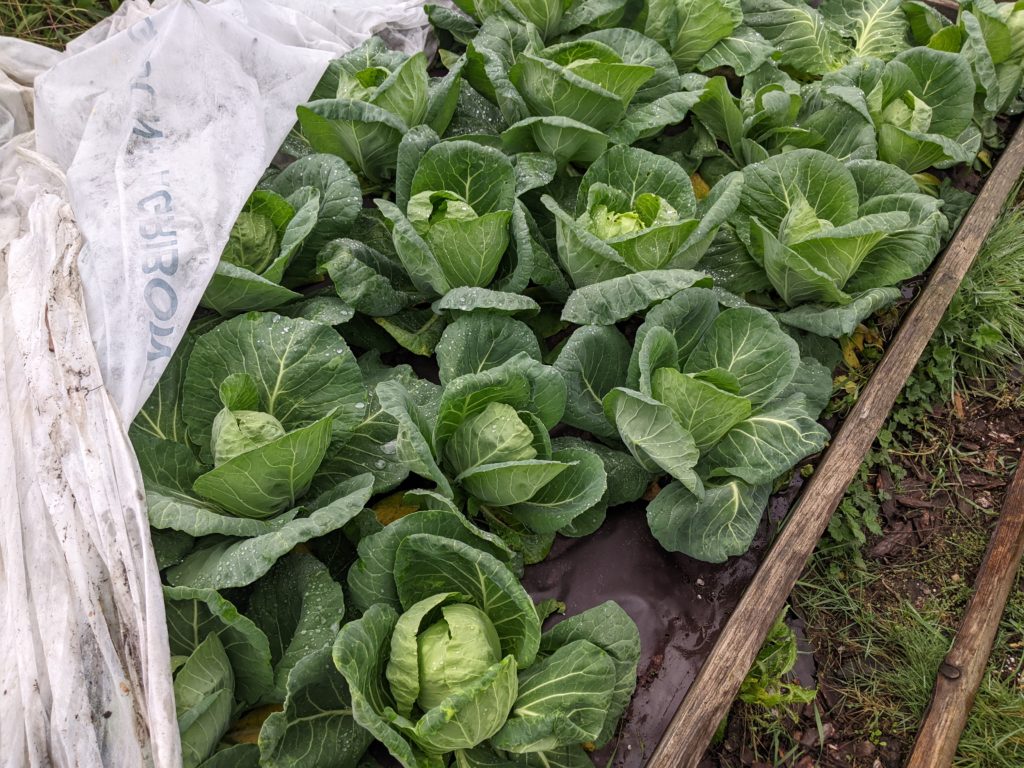 This is a bit ironic – two weeks left, and there FINALLY is a nice looking brassica! So – guess what you all will have in your box this week and next. The good news is that Cabbage will keep a really long time in your cooler, so instead of a baseball sized wormy scrap you can finally make, well, what ever you like to make with green cabbage!
Obviously in the remaining two weeks there are other veggies available. The interesting thing is that root crops are the real star of the show. This year is really doing well with Carrots and Parsnips; If you happened to notice there was a highly ornamental bowl of "Saturday Shilofarm CSA Soup" on the group facebook site. Soup is very encouraged with the root crops. Cold rainy Fall days are a good match with soup.
There are at least two frost nights in the forecast this week – the cut flower farmer was out trying to pre-cut before the freeze on Tuesday, although the one forecast for Wednesday is more aggressive. The outside tomatoes are done, fini, deceased, over. The greenhouse, especially the cherries did not get the memo and are still putting out fruit. The outside Peppers are pretty much being stoic in a gradual death. Since the peppers will ripen in the house the best looking samples were picked and put in the sun room of the farmhouse: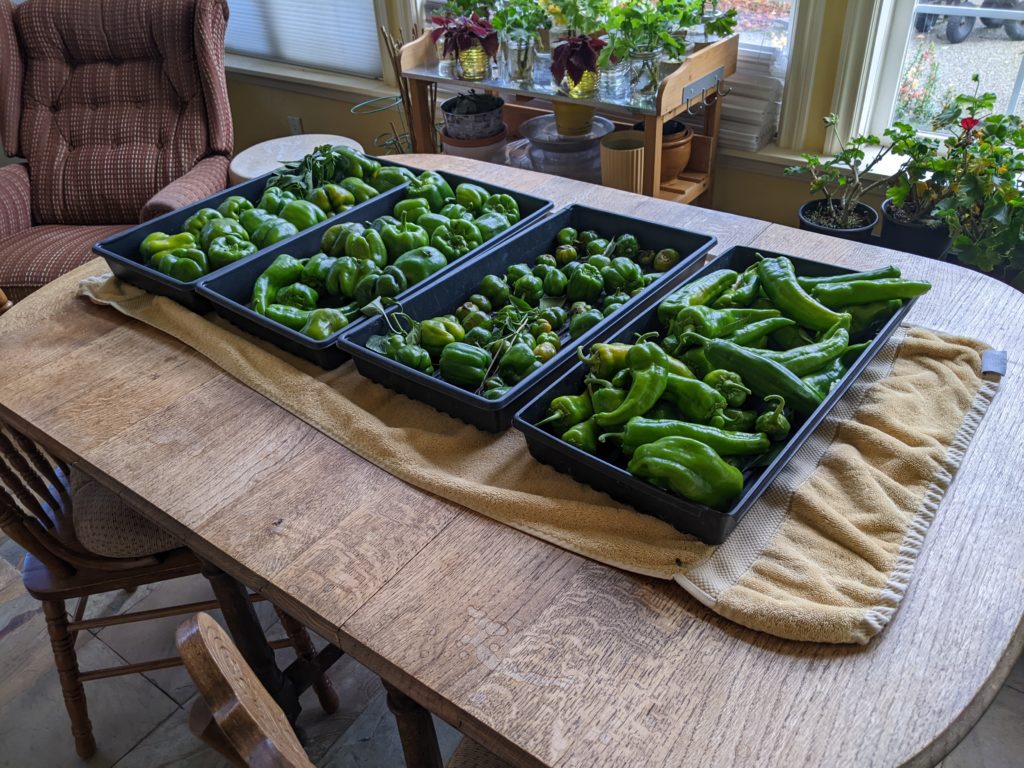 In theory, there are enough in those four trays to put out over this week and next. That said, if you are wanting a bucket full (say, 2-4) speak up – the cows and horses will be sad at their loss, but you can enjoy some stuffed bell peppers or even those big old spicy types.
Beyond that – the plan here is to continue picking away at setting up for next year. There was some talk about giving up and going to live in the home for tired farmers; but hey, who would give you crummy looking cabbage? Seriously!
this week:
Lettuce
Cegolaine or Bibb; small heads because, well, it is November and that is what they do.
Brassicas
Nice. Big. Heads of Cabbage. Finally. Make Sauerkraut. Or slaw. Or mount it on you mantel.
Roots
Red beets and White beets with greens. Carrots, Parsnips and Turnips. Lots of Carrots, ask if you want more Parsnip than 1
Greens
Red Chard, Arugula.d
Herbs
Chives, Parsley, Basil, Celery – lots of Parsley and Celery – ask.
Misc
Bigger bulb onion and a few green onions.
Flower of the week: Cut Flowers – snatched from the very jaws of freezing…
Cherry Tomatoes – TBD how much. Slicers are not happy, but they are trying. Next week there will be green slicers in your box to let get ripe on your windowsill – for sure will last till Thanksgiving. You remember Thanksgiving – that holiday that gets lost…
Cukes – Yeah well maybe. Probably not.
Lots of green peppers (not totally ripe). Let them sit out in your kitchen – they crave some warmth. Really big spicy peppers.
— that's about it.
And all the beef is sold – yay hooray!