welcome to Fall!
Fall actually by the calendar came in the middle of last week – but hey, it is real now. Nights are more than daylight, cooler temps and some rain forecast for the pick day on Wednesday. That inspired picking of the slow and tedious plants tonight. Somehow there ended up being 10 boxes on Wednesday and only six on Friday, which means picking with so many varieties is a bit time consuming. Beans take a lot of stooping and looking to get a bunch for the boxes.
Nominally the cauliflower and broccoli and cabbage should be just ramping up for the fall. Sadly, they all look a bit sad. Snap peas are happy but still not too pleased about the weather that was hot and dry in September – the first snap pea blossoms showed up this week so the extended season peas will be there. When you get to the usual table, there will be a note that if you really like cabbage you can have a softball sized head – there aren't too many.
Root crops are in fine condition, other than potatoes are about to the end of the crop. Something just isn't working for potatoes, especially the russets. They are way too small as you have seen from your boxes. Beets are doing pretty well, and the carrots are in fine shape. The rule of "three for a personal share" and "six for a full share" gets a bit modified when a giant is pulled and then a few skinny ones. The point of this is if you want more or less carrots drop a note in the email. They do keep well if they are kept cool and moist – which means it is possible for you to end up with a cooler full of carrots.
There are a couple of you who are avid fans of Parsnips and Turnips. If you haven't gotten any Parsnips as yet and are yearning for them you should ask. The other oddball crop that happens to be ready right about now is Horseradish. Generally there are one or two members that want to grind it up and make their own – as usual, ask. There won't be farmers choice on horseradish.
The lettuces are smaller than is desired. There are new starts of a nice romaine, but they won't be ready for maybe 3-4 weeks. The Cegolaine that was harvested is forming coppice (that is shoots from the root). Since the root is fully developed it will be showing up about the same time as the new starts.
This week the fresh grapes should be the red grapes – smaller than the green last week, and so far safe from voracious robins.
Same picture from last week: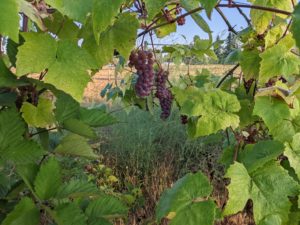 unless of course you don't want grapes… you know what to do, drop a note!
in the box:
Lettuce
Romaine (green), a green 'bibb-romaine cross, Red sails.
Brassicas
A few cabbage lurking… very very small heads, not what was planned for. Ask for Kale. A possible cauliflower or broccoli may show up – but they are still pretty small.
Roots
Red beets and White beets with greens. Carrots, Parsnip if you ask, Turnips are farmers choice, unless you ask.
Greens
Curly Mustard, Red or White Chard, Arugula as farmers choice unless you have a history of loving it.
Herbs
Chives, Parsley, Basil, Celery – two stalks nominal, plenty more if you crave it.
Misc
green beans
Potatoes – Assortment – mostlyNokatah Russet, maybe a Cal White. A couple of you will have a few fingerling potatoes.
Bigger bulb onion and a few green onions.
Flower of the week: Cut Flowers. The end is not here yet on cut flowers, but it can be seen coming.
Tomato Cherries and Slicers. Tomatoes. Cherries – nominal 1/2 pint. Maybe a pint if the picking holds up.
Cukes – not enough for everyone. If you are yearning for a cuke, ask otherwise it is a farm lottery.
Bell peppers are now big and green, hot peppers are also big and green, may be some of the small yellows. Ask if you want a green bell pepper, otherwise hoping they ripen.
Summer squash: Random choice of Hook neck, Zucchini, Patty Pan.
Eggplant – Millionaire (tube shaped) or Rolandia (Round).
green or red grapes, blue not ripe yet.
Apples are a farmer's choice thing.
Coming Soon: Bell peppers, more Kale.
BEEF: Still have Half of the big cow – good chance to buy a quarter of a beef of Hamburger and sausage… Need to hear from you soon, will be sending out email to buyers next week.