Pretty hot today (7/26) and going to stay that way for a while. The early potatoes are fed up with this, so they are being pulled and cleared from their bed in preparation for The Next Thing – likely a cool season brassica or lettuce. That is a bit of a tricky bed, really sandy so most likely it will get some composted manure and a paper mulch cover. Putting the paper mulch over the irrigation drip tape really helps the sandy soil retain moisture.
Meanwhile, the poor crop of berries is running down and out – The goal this week is to get you each at least a half pint of either Raspberries or Boysenberries. Those will be picked the night before and kept in a cooler till delivery. The other poor crop is our peaches – this week there is one (1) per box. It is really upsetting – the heat dome in July of '21 followed by the miserable cold spring – lots of dead trees and extremely poor germination. But. Well. you get one to know what you missed.
In the interest of science, the cull new potatoes have been ending up in the farm kitchen. This week was the first time that the 'Blackberry' highly purple potato made it into the pot. Now, if you mix blue and red, what do you get?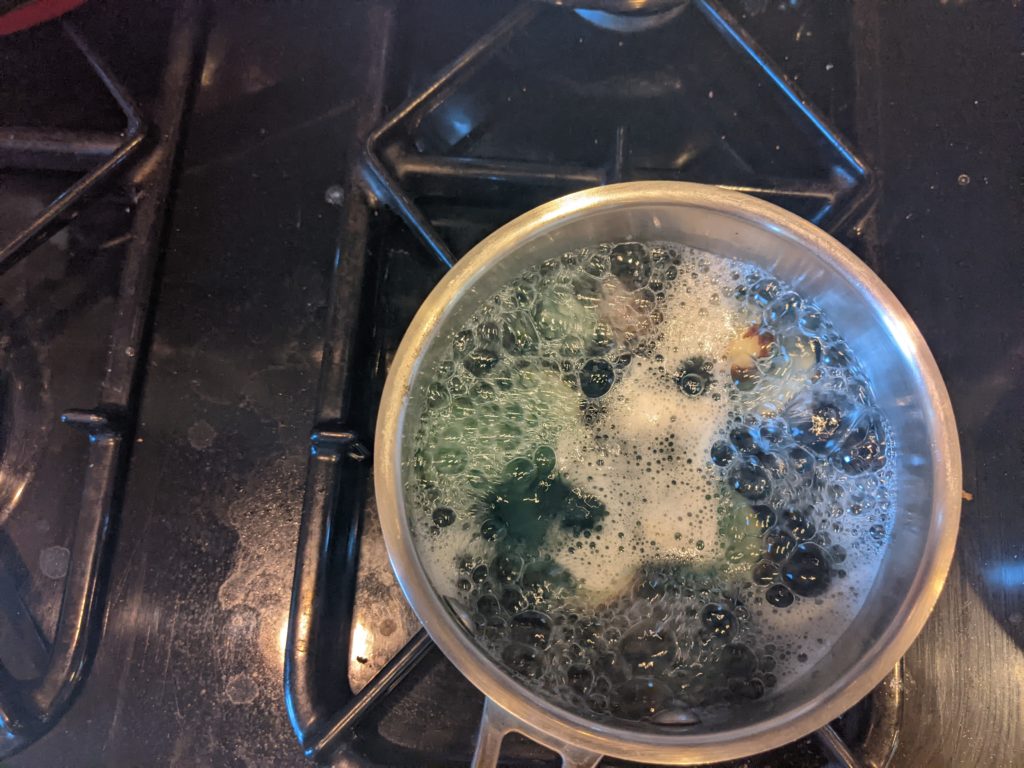 At one point, that emerald green dominated the water – then the blue finally won the contest. It was an amazing science experiment – and the potatoes tasted great. The farm kitchen gets mostly culls – scabby, or damaged, or just tiny. It also gets the lettuce that is bolting. So, dinner is a bit of meat and a green salad of culls and some potato culls. By the way – that is how the 'Red Meat' Radishes were discovered to be both very spicy and about has tender as a two-by-four. Perhaps they should be grated, but the chopping knife even found them challenging.
Tomatoes are still mostly not ripe. There are maybe five varieties which are getting ripe on a daily basis. The slicers are called "Stupice" and the really big cherries are called Sun Chocola – there are three different smaller cherries ripe now as well – Artemis, Sun Gold, and Orange Paruche. Sun Gold is like eating tomato sugar – exceptionally sweet. Orange Paruche is a more acid tomato, and Artemis is kinda half way between. Just to add to the joy of salad there are about (to be determined four cucumbers ready to go for at least Wednesday.
The other crunchy for salads would be Radishes, Turnips and Avalanche Beets. The Turnips and Beets are still young, but at least one of you reports the turnips are excellent in soup – which the Southerners all would agree. The pure white turnip gets just chopped into salad here at the shilofarm kitchen – but that is the case for almost everything – Salads should include mystery objects for interest. There will be root greens in your box unless you are the person who said, "no root greens."
The above picture may be a little hard to figure out – but there are Chard on the left and Lettuces and Curly Mustard on the right. The red Chard is probably 2 weeks till ready – meanwhile the 'white' chard in the background is filling in. The Curly Mustard is likewise coming right along. The Mustard is showing a distressing tendency to go to seed before it is full grown because of the heat, the Chard is fine and dandy.
So – the "missing" parts are things like Peppers, Eggplant, Summer Squash, Beans, Corn, more carrots. All these are progressing nicely and will indeed eventually make it into your box. Eggplant seems to have the inside track for being next. The new brassicas are growing nicely, but don't look for them till September. The long-term forecast claims a normal rain and warm fall… Tomatoes till Christmas!
in the box for this week:
Lettuce
Cegolaine or Red Sails or Red Iceberg. Cegolaine is awesome this week.
Brassicas
yeah, well… not this week.
Roots
Radishes: Red Meat, Minowase (the giant white ones), Baby white Turnips with greens, baby White beets with greens
Greens
Mustard … if you ask you might get a couple of smallish leaves.
Chard – White only; Red – also if you ask a couple of smallish leaves
Spinach – nope. Not a happy plant in the heat. R.I.P.
Arugula – yep. Nice size for salads – trying not to give out too leggy of a plant. A big handfull.
Baby Turnip Greens, Baby "Avalanche" white beet greens. Red beet greens are available if you prefer.
Herbs
Mint, no Oregano this week, Chives, (Cilantro – not till it cools off), Parsley, Basil, Celery leaves – remember to ask if you want more or less of a herb. LOTS of parsley available, by the way. Celery is getting bigger – outside celery is still smaller than inside celery.
Misc
Snap Peas are done till fall. Potatoes – Assortment – smaller Nokatah Russet, Huckleberry, Cal White, Grand Duke, Red Norland maybe or maybe Yukon Gold. Bigger bulb onion and a few green onions. Flower of the week: Cut Flowers. A Peach. One. Count it. Cherish it. A rare treasure.
Raspberry or Boysenberry – half pint per.
And Tomatoes – probably in a Pint green till – cherries or slicers or whatever is ripe. Tomatoes. Soon to be overwhelming.
Maybe a cucumber – not enough for everyone this week.
Coming soon: Well. What you have this week will be the same thing for a 'soon' window. What is out there in time are more good things. Really. Just not soon.
Summa Taim.