It has been a good Winter Season – Thank you to those who participated! Winter season pays for a lot of seeds! The overall production level has met the needs and expectations, and the couple of really cold snaps did not wipe things out (other than the tray of tomatoes: a moment of silence please).
There will be a bit of changes to take into account as the transition to Green season comes up. Some of you will be on the "Wednesday" route, which means that your box will be only four days from the last. That probably won't be an issue, just have lots of salad… Other than that, it is pretty similar to what Winter has been at least up to now. Obviously with more light and some sun variety will increase. Speaking of variety…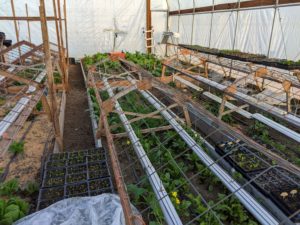 There are cabbage and Bok Choi – Both need to be cleaned out of space that will be planted Real Soon- especially the cabbage. Over-wintered cabbage is probably not as great an idea as assumed – the few heads of green still remaining are deciding it is time to go to seed. That row will be re-planted with beets for main season; 8 weeks from seed to plant. There are a few Bok Choi that are going to be shoved out for the greenhouse Cukes – the extra Mustard there was already removed – did you know Cows like Southern Giant Mustard? Well, they do, at least the Shilofarm herd does.
There will be a longer post in a day or two for the April "Monthly update" which will talk about the crop transitions into Green Season and then right on into Main. The tricky part of the CSA is managing the transition from greenhouse to outside without a gap. It is looking pretty good for now, although there are some critical dependencies to work out. It is encouraging to see things like Potatoes that are outside starting to show above ground – and the lettuces, onions and herbs. Enough rambling – here is what is available this week…
Lettuce
one of four types – your choice and all good. Lots of Winter Density Romaine…
Brassicas
More small red cabbage or large Bok Choi.
Roots
Radishes (longer roots), Beets with small bulbs. Young Carrots (Napoli) – just a couple.
Greens
Mustard … Lots and lots and lots…
Beets greens, Carrots greens
Spinach.
Baby Chard is available.
Herbs
Mint, Oregano, Chives, Arugula. Green Onions.
Coming soon… Green Season – Cilantro, Parsley, and all those good green season… greens!