Hi Folks !
Week 16, second week in September – the last week of main season deliveries the week of October 5 (5th, 7th and 8th). There are at least two known "won't be continuing" members – one of whom is moving away. It is always a help for planning to know if you are going to continue for that last 6 weeks. Mostly that allows staging winter squash and sweet potatoes.
This week has seen some 'finally' happenings, and at least one 'still not yet.' The 'Finally' is that there seem to be some sweet corn ears showing up; a few of the watermelon look ready; and some of the bell peppers are turning orange as advertised. Pumpkins are looking pumpkin-like as well.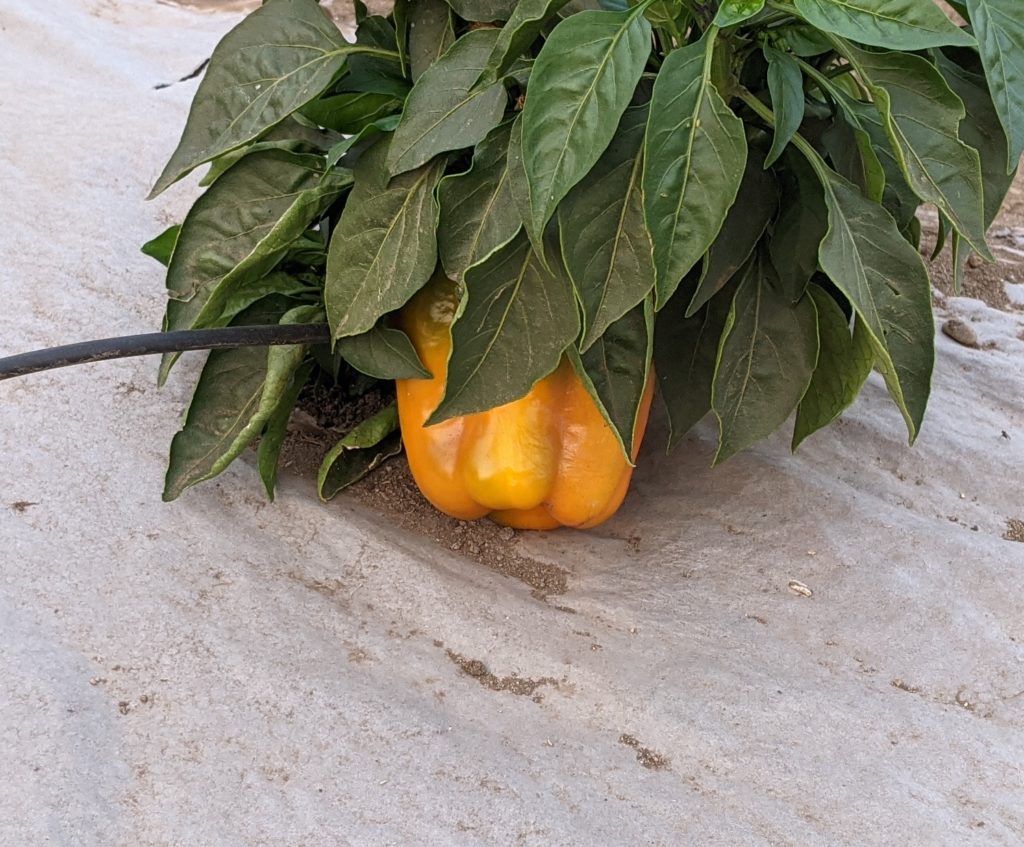 The other Good Thing is that the lettuce started after the great heat of July is now at the baby lettuce stage – there still won't be much in the box this week, but the cool nights are delighting the lettuce. Happy lettuce is good!
The one crop that is a puzzle is the broccoli and cauliflower row. Really nice plants, and not a floret to be seen. This is a real puzzle, and a bit of a disappointment. To compensate, there are a LOT of hot peppers. LOTS.
Cukes are producing well, and the outside Tomatoes have decided to kick into gear. There were four of the ten cuke vines that were lagging – should see some fruit from them starting soon too.
So – lots of good produce this week – limited Watermelon – not everyone is a fan – so ask and ye might receive. Maybe. There seem to be about 4 ready. The winter squash will be picked as ripe to cure next week… Will also be checking sweet Potatoes.
in the box for week 16:
Greens
New baby Lettuce. White and/or Red Chard; optional Asian mustard. Kale – not much of it. More lettuce coming, as well as a bit of Spinach.
Crunchies
Misc. Summer Squash: hook neck, patty pan, zucchini. Carrots (Sugarsnax54), Cucumbers, Green or Orange large Bell Pepper or Chocolate small bells.
Herbs
Garlic, Arugula, Green Onions, Chives if you ask, Basil, Cilantro, Oregano. Hot pepper, zero to 3 or 4?
Other
Yellow or Red Beefsteak, Slicer and Cherry Tomatoes, 1-3″ beets with greens, Pears (let them get yellow!), No Potatoes. 🙁 Flower of the week will be mystery arrangement or roses. Any preference? Optional Eggplant (ask) – Small red Apples.

Green beans in quart sized quantity, a couple of ears of corn per some boxes as available, will know as picking is done.
Next Week:
New Spinach
Yellow Crab Apples, probably.
On Deck:
Cauliflower (plants are 6-8″ – no heads formed yet.)
Broccoli: same story as Cauliflower. Bummer.
Cabbage – 2-4 weeks out
Sweet Potato Greens
Décor Squash
Pumpkins
Winter Squash
Sweet Potatoes