Summa Wethua…
This is good for the garden; warm makes things grow and get ripe much faster than cold and rainy. The cool thing for this week is there ought to be at least one tomato for everyone – the trickle before the flood. Mostly there are cherry tomatoes of a couple different varieties; that said, there are maybe three small slicers. The other crop that is on the edge is the new planting of Cabbage. Peppers and Eggplant aren't even close, the summer squash has lots of blossoms and a very few tiny fruit set… It's a week 5 thing.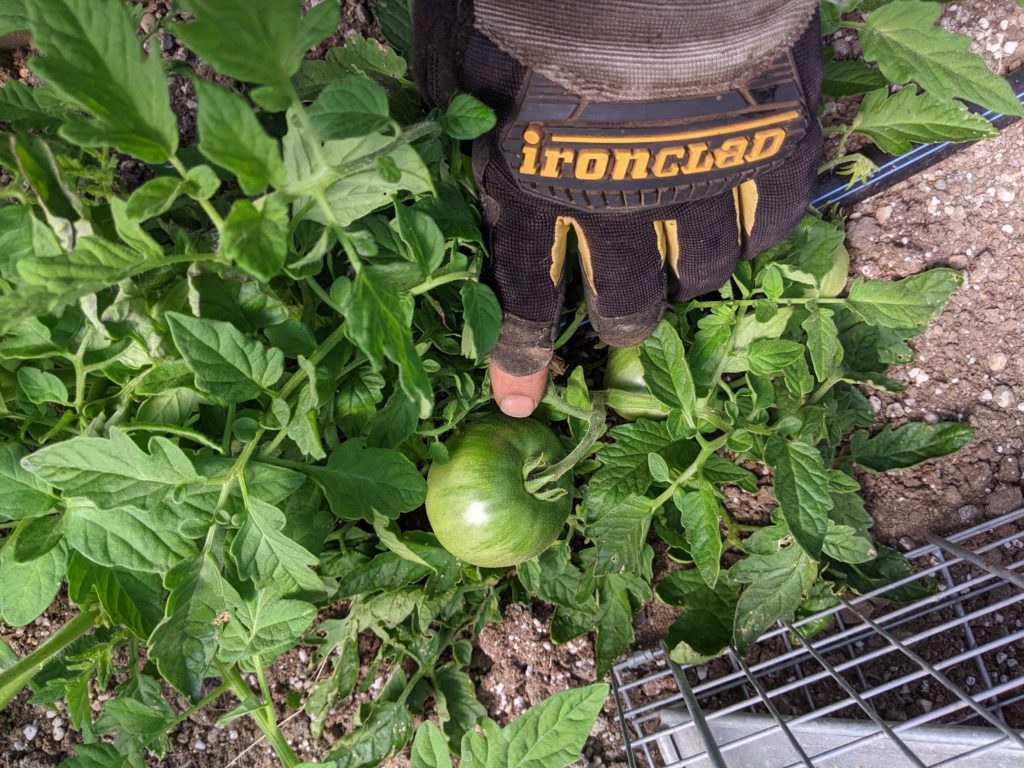 Shockingly, the snap peas in the greenhouse just don't want to give up. Frankly, that is a bit befuddling. The normal snap pea (outside) gets some size and promptly dies. The only factor that makes any sense is that the greenhouse actually shades the plants. The snap peas are now about 7′ tall, which makes it a challenge for farmer Deb to pick.
Avalanche beets are great greens right now – sweet and crunchy when in a salad, and rumor has it that they are pretty delectable in stir fry. The next stir fry carrier food will be asian mustard – that will be set out this week and ready in about two more weeks.
Corn is up, beans are up, carrots are kicking into gear, next planting of lettuce heads out, raspberries and bosyenberries and figs are in a race to be ready… Week 5 – on the edge of more good things. Enjoy the lettuce…
Oh yes – there was a grand experiment to over-winter Walla Walla onions. That experiment ended badly; the bulbs aren't bulbs as you would expect. The really interesting and a bit strange thing is the green is extremely thick and quite tasty, if you like Walla Walla onions that is. There will be one in your box this week; hereto now they have shown up without any explanation; Chop the stalk with the onion and stir fry it with oh say liver… if you eat liver.
And, in the same department as "oh yeah:" There are small bulbs of Fennel coming of size. Generally there are people who crave it and people who have never heard of it. Ask if you want some; and also ask if you want the fronds left on or trimmed back.
So – Here's what is in the box for week 5:
| | |
| --- | --- |
| Greens | Lettuce (Red and/or Green), young cabbage or cauliflower, White and/or Red Chard; Baby beets for (large) greens |
| Crunchies | Snap peas. Note will be a 'hole' in crunchies till new carrots and beets are here. Cucumbers aren' even blossoming yet. |
| Herbs | Arugula, Green Onions, Chives, Basil, Cilantro, Fennel if you ask, Parsley, Oregano, mint. If you want 'lots' of Oregano that can be done. |
| Other | One (1) Tomato… New Potatoes – various colors. Flower of the week will be snap dragons or roses Any preference?. No fruit this week. |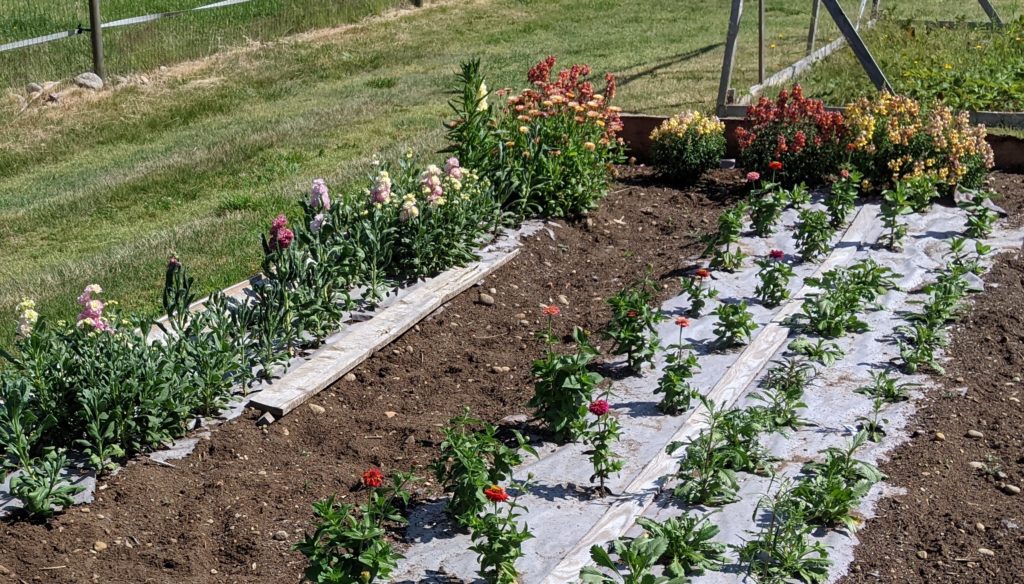 Next Week:
larger number of Tomatoes
Cabbage
Raspberries… almost for sure.
On Deck:
Figs, Plums, Boysenberries
summer squash (Zucchini, Hookneck, Patty Pan)