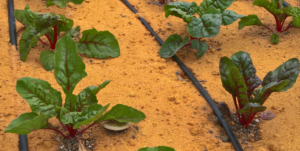 Here is the challenge this week: Chard. The recipes on line seem to want more that one or two leaves of Chard – which means there is enough this week to give between four and six of you 8-10 nice leaves – a mix of red and white chard. There are two or three of you that are known chard-a-holics; the rest of you are a mystery about this. Right now, Wednesday pick has one member who is passionately in love with chard, and one who would take 'some.' There are a couple of members who put emoji's (heart) on FB when this was posted…
Please give a heads up via email or text if you want in. If not, after the chard-a-holics get theirs it is farmer's choice.
The cabbage is still doing well; tomatoes are blossomed, potatoes are up – but for green season the big question now is when do the strawberries get ripe. One or two small green wannabe berries showed up this week, which is encouraging. That said, they likely are two weeks out. The outside lettuce is doing well, but is still small this week; oddly enough the lettuce harvested from the greenhouse insists upon throwing out new (small) heads that get packed out. Spinach is really looking great.
And one of the members sent a FB message wondering what the little white flower plant is. The suspicion was weed – actually, it is Arugula. Not to say there might be a weed now and then, especially in the chives.
There are some tiny planters of Oregano which will be available for your kitchen window – but you do need to ask for them.
Here's what's in the box week 5
| | |
| --- | --- |
| Greens | Spinach, Cabbage (small heads), Cegolaine or Red Iceberg small head lettuce, green Kale, Curly Mustard |
| Crunchies | Carrots (Mokum, Eskimo, Napoli) – beets are done. Alas poor Subeto… Asparagus (is Asparagus a crunchie?) Snap peas (a few this week, just getting going) |
| Herbs | Chives, Arugula, Parsley, Green Onions. |
| Option | Swiss Chard, one turnip left, |
On Deck:
In the hole:
Cilantro
Oregano in a small pot for your shelf
Strawberries