We are officially into the last four weeks of green season now – my how time flies… The planting/harvesting cycles are aimed at 4 week windows based on typical ripening and bearing life of crops. This week starts a new round of crops as a consequence. Lettuce is the best example: from emergence to 'ripe' is usually 6-8 weeks. The lettuce then continues to mature, and after 10-12 weeks is over-ripe. The first picking has small heads, so you may get two at the start of the window and only one at the end.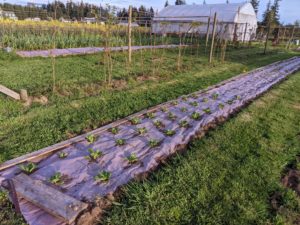 There are also crops that have 'needs.' Corn 'needs' heat and time – 90 days, or about 12-13 weeks from emergence. Emergence is heavily influenced by soil temperature; soil temperature is impacted by time from first frost – so, corn is destined to go in the ground next week. Corn can't really be started in the green house because of the sheer number of plants.
All that to say, there are crops that are planted to cover the 'bridge weeks' between plantings. There are three coming on right now:
Cabbage
Swiss Chard
Pac Choi
Asparagus is only seasonal – and the yield starts off light and then grows (joke word). Carrots are a new bridge problem. Hereto now, carrots were planted outside after the soil temperature was high enough to get good germination. Therefor, green season might have over-wintered carrots; unfortunately, as the soil temperatures start off the peg the over-wintered carrots get pretty nasty. The experiment this season was to put carrots into half of a raised bed with heat tapes to get germination – inside the greenhouse. This has been a great success, and will be expanded in coming years. Beets don't seem to need the heat, so they will lose there place in the heated beds. The radishes didn't like the heated bed…
All of which brings us to session 2 of the green season.
Asparagus is going to town. The division of spears will continue as a share basis – if you do NOT want your asparagus, please drop a note to let us give your asparagus share to those who love it. The cabbage from the greenhouse is seriously outputting nice hard heads; cabbage will be your big green in the box this week as the lettuce is small.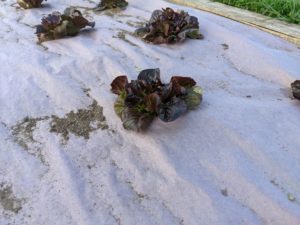 Did you know that sparrows that are hungry will take bites out of lettuce? This is a painful discovery – the lettuce you get will have serrated edges. Swiss Chard is growing fast. There are a couple of members who consider Swiss Chard to be ambrosia, food of the gods – There will be small (6″) leaves in those boxes. And, there are three (as of today) snap pea immature pods.
in the box week 4
Greens
Spinach, Katrina Cabbage, Green Kale, Curly Mustard, Spinach, Red Iceberg or Cegolaine small head lettuce.
Crunchies
Carrots (Mokum, Eskimo, Napoli) Small Avalanche Beets or Subeto red beet – here are very small heads of Broccoli for salad – probably the last week.
Asparagus (is this a crunchy?) Radish, maybe.
Herbs
Chives, Arugula, Parsley, Green Onions.
Option
Parsnips or Golden Ball Turnip, baby Swiss Chard
On Deck:
Sugar Snap peas have blossoms
In the hole:
Cilantro
Oregano in a small pot for your shelf
New Pac Choi
Just a reminder – there are still 12 openings for the main season. If you have friends that are interested, let them know!