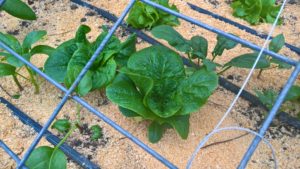 And the garden is ready!
For those of you new to the CSA; the what's in the box email (which this is one of) has some general updates and observations, followed by the basics and any options – for example; Pac Choi or Cabbage.
This method came about because the boxes only hold so much; members have preferences; crops ripen are in production and wind down. For example, there are maybe 30-40 heads of Cabbage that aren't ready this week, and one that is. In two weeks, there will be 20 or so that are ready; then there will be maybe 4-10 left. Same thing with carrots, beets, turnips, pac choi…etc.
The 'Poll' you filled out is used to pre-filter what may be in your box. The other factor, particularly as some veggies get really large (Lettuce, you know we are talking about you!) is that your consumption might not keep up with the farm delivery. That might mean that you say, 'no lettuce this week.'
The Green Season is split into two four week windows by the very nature of Spring. The first four weeks are heavily sourced from the greenhouse and from over-wintered produce – this year, over-wintered includes carrots, a few skinny parsnips, small beets with intensely delicious greens and green onions. You will see them tail off and then the root crops that are in the greenhouse will kick in.
The last four weeks get interesting. There is really excellent Asparagus (well, it was excellent last year, so the expectation is that it is this year as well!), outside greens, lots of cabbage, broccoli and cauliflower, and our new in-the-greenhouse carrots will kick in.
So – what's in the box this week? Glad you asked that question!
| | |
| --- | --- |
| Greens | Spinach, WInter Density &/or Adriana Lettuce, Pac Choi, WInterbor Kale, Curly Mustard |
| Crunchies | Carrots (over-wintered), Radish (Dragon), Small Avalanche Beets |
| Herbs | Chives, Arugula, Garlic (from our storage) |
| Option | Small Parsnips, Golden Ball Turnip (huge greens) |
On Deck:
Cabbage is forming heads, both inside the greenhouse and outside.
Beets in greenhouse have large greens, letting the ball develop till 1-2″
Sugar Snap peas are still building vine
Hope you enjoy the Green Season!